Bergquist Invitational Field Target Match
Central Coast Field Target
Match Results 11/25/2016
| | | | | | | |
| --- | --- | --- | --- | --- | --- | --- |
| 1 | Baldwin, William | Air Arms TX200 | UTG 3-12x44 | H&N 10.65gr | 19/52 | 36.5% |
| | | | | | | |
| --- | --- | --- | --- | --- | --- | --- |
| 1 * | Pacheco, Vince | USFT #93 | Nikko 10-50x60 | CPH 10.5gr | 45/52 | 86.5% |
| 2 * | Eanetta, Terry | Benjamin Marauder | Sightmark 10-50x60 | JSB 13.4gr | 45/52 | 86.5% |
| 3 | Bergquist, John | Crosman Challenger | Nikko 10-50x60 | JSB 10.34gr | 43/52 | 82.7% |
| 4 | Hull, Alan Harold | Benjamin Marauder | UTG 3-12x44 | CPH 10.5gr | 42/52 | 80.8% |
| 5 | Hull, Scott | Marauder pistol/carbine | UTG 3-12x44 | H&N 8.5gr | 39/52 | 75.0% |
| 6 | English, Scott | Hamerli Pneuma | Hawke 8-32x56 | JSB 13.4gr | 35/52 | 67.3% |
| 7 | Eminger, Keith | Benjamin Marauder | UTG 4-16x44 | CP 14.3gr | 21/52 | 40.4% |
* Decided by shootoff
1st through 3rd overall medals were given out, along with a plaque for high piston shooter and another for the 2016 airgun challenge winner.
Other class winners:
1st place Open class - Vince Pacheco
1st place Freestyle sitting class - Terry Eannetta
1st place Freestyle prone class - John Berquist
1st place Freestyle 12x class - Alan Hull
1st place WFTF class - Scott Hull
1st place prone .22 class - Scott English
1st place old style Hunter class - Keith Eminger
1st place piston class - William Baldwin

The only airgun club on the Central Coast does not usually have a Field Target match in November. This year was different. Local airgunner, John Bergquist decided to fill the gap by planning a small invitational FT match on his 200+ acre ranch, high up in the hills above Cambria. The drive up the coast and the winding road up to the site affords some breathtasking views. Eight of us gathered on the beautiful morning the day after Thanksgiving. The trip from the Bergquist cottage out to the course was by 4-wheel drive only.
John had setup a sight-in range in a clearing with the course a little farther up the hill. The lanes were laid out off an old stagecoach road that winds it's way through a grove of old oak and madrone trees. The course started near the clearing with lane one having a 40mm 50 yarder and 55 yarder. Amongst the 12 lanes, there were a variety of targets including 50 yard long uphill shots, heavily shaded targets, tree targets, under/over logs, and downhill shots. The course was set at a higher difficulty than our typical monthly matches. The many, many small targets were challenging. Even with the protection provided by the trees, I was holding outside the KZ on some of the 3/8" targets. I remember encoutouring about four or five 1/2" targets, three or four 3/8" targets, and a 1/4" target.
I was squaded with William Baldwin. William, our most senior club memebr, was the only person shooting a piston gun at this match. I had decided to shoot my Marauder pistol/carbine. I had recently done some extensive work on it in preperation for the 2017 PFT season. It needed testing and I thought it would be a better choice for this match than the piston gun which I usually shoot. William shoots from a bucket/stool. Some targets were not conducive to that shooting postion. He decided to take a zero on a couple of shots rather than attempt the difficult positions needed. Regardless, he was happy with his score. It had been a year or so since William had shot a Field Target match.
Vince Pacheco and Terry Eannetta were tied for first overall. Vince won in a shootoff. It came down to Vince's last good pellet when he dropped a 50 yard target in the wind to claim 1st overall.
The Airgun challenge was a side shoot that involved a row of 5 progressively more difficult targets at 30 yards. No sighters were allowed. Each shooter got five shots. It was OK for a shooter to repeat a shot at any particular target until it was knocked down, but after five shots, your scores was based on how many targets were down. The KZs were 3/4", 5/8", 1/2", 3/8", and 1/4". It was shot at the sight-in range. Winds were a little gusty, but not too bad. Vince was using his reject pellets and did not make it into the fianl shootoff. Only Terry and I were able to make it past the 1/2" target. On the final shootoff round, I got three. I could not drop the 3/8" (T80 without wind, T100 with). Amazingly, Terry hit them all on his last round, including the 1/4" KZ (T120 without wind, T150 with).
It was a fun day and John is considering hosting more matches in the future.
Looking towards the end of Highway 46 at the Pacific Ocean: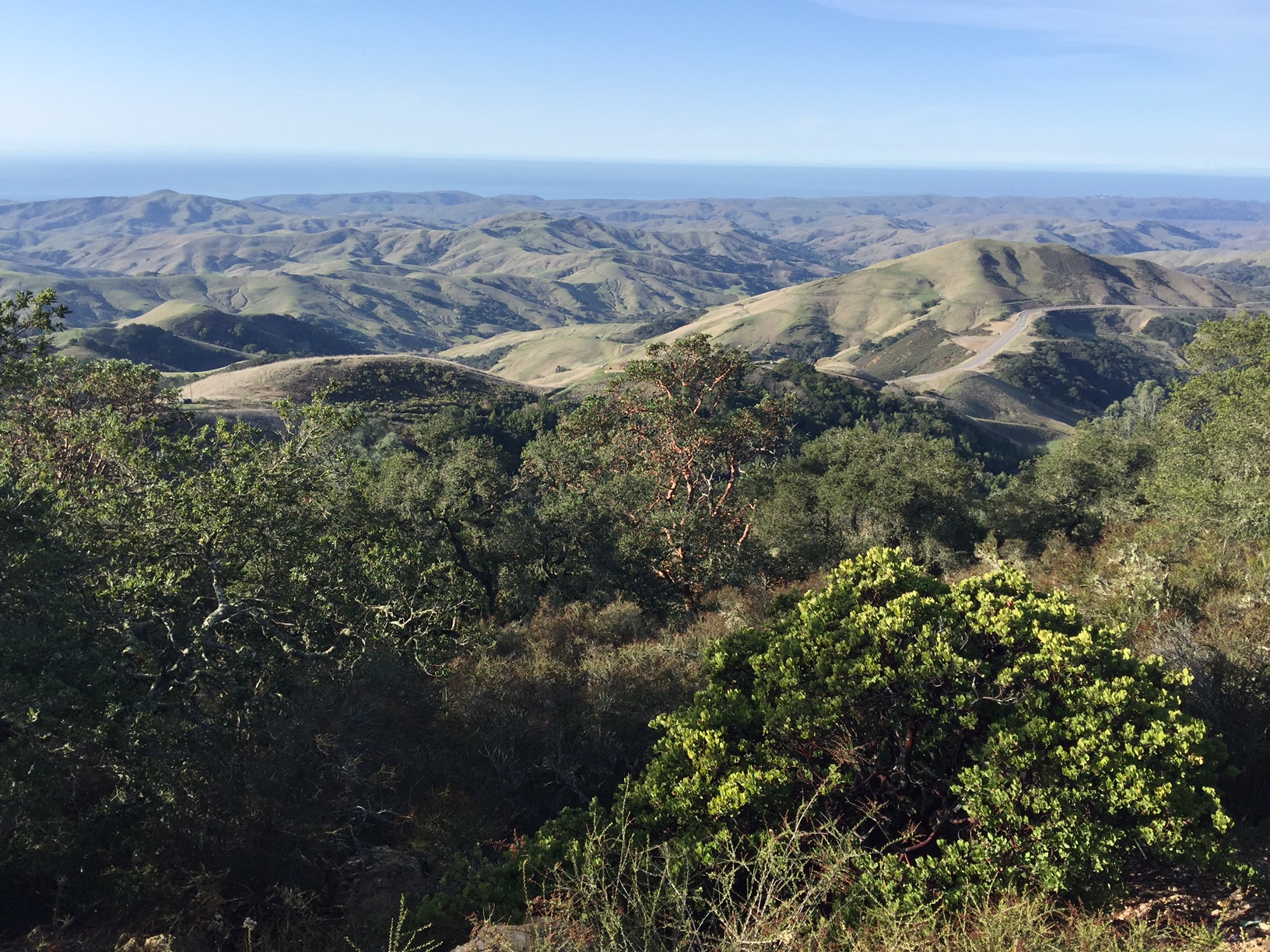 Morro Rock in the distance: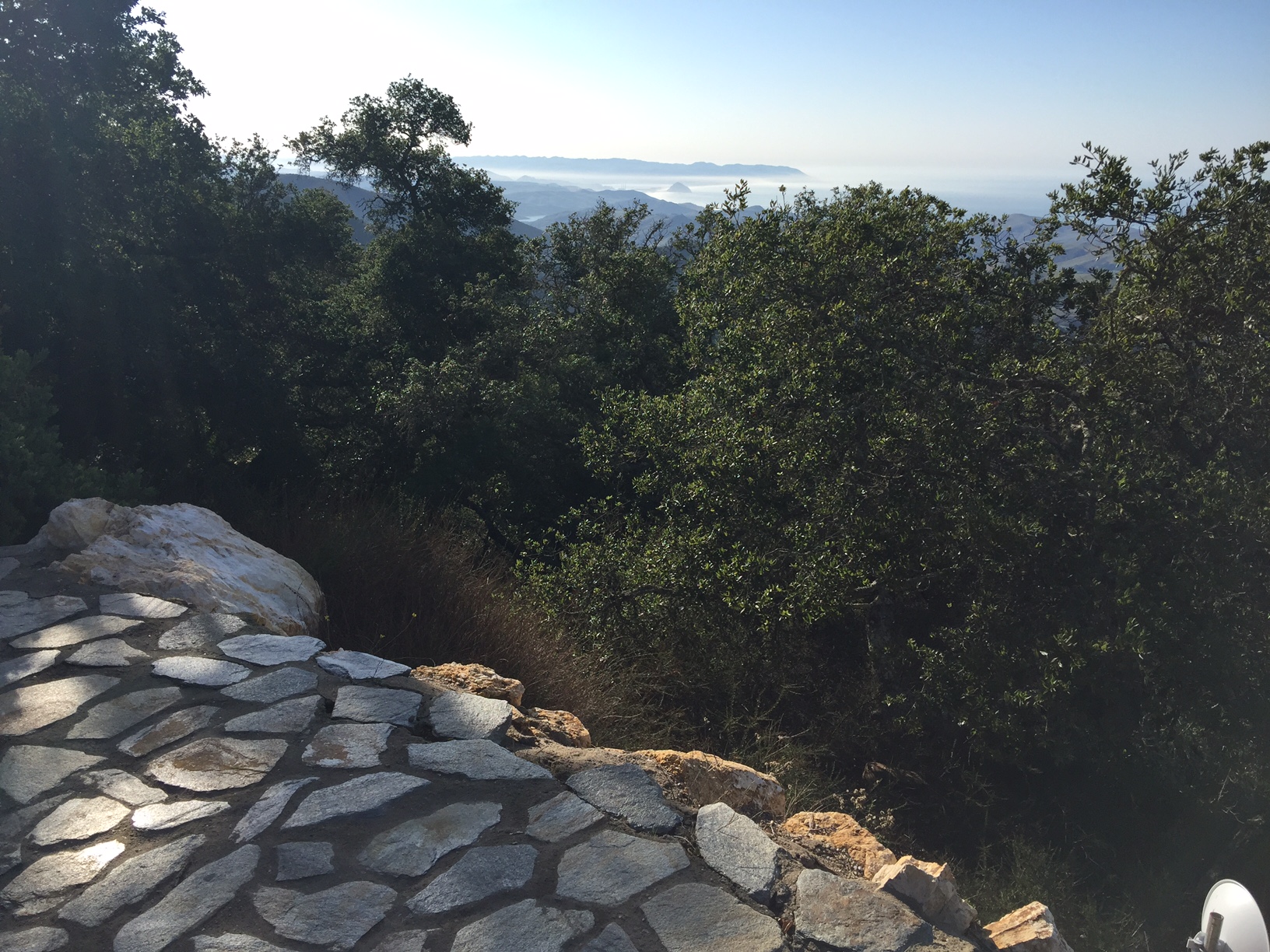 The match is part way down the hill: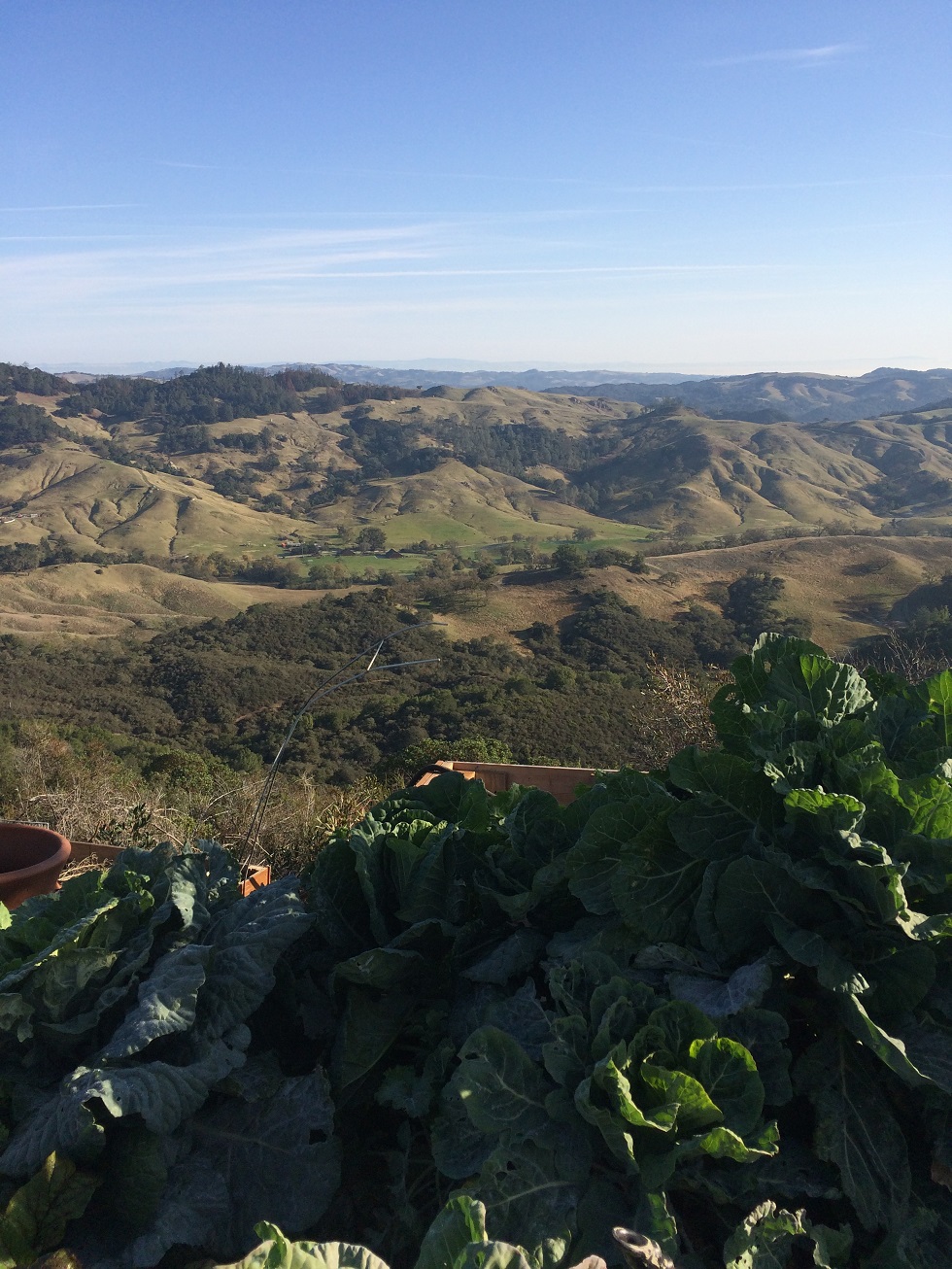 The sight-in range: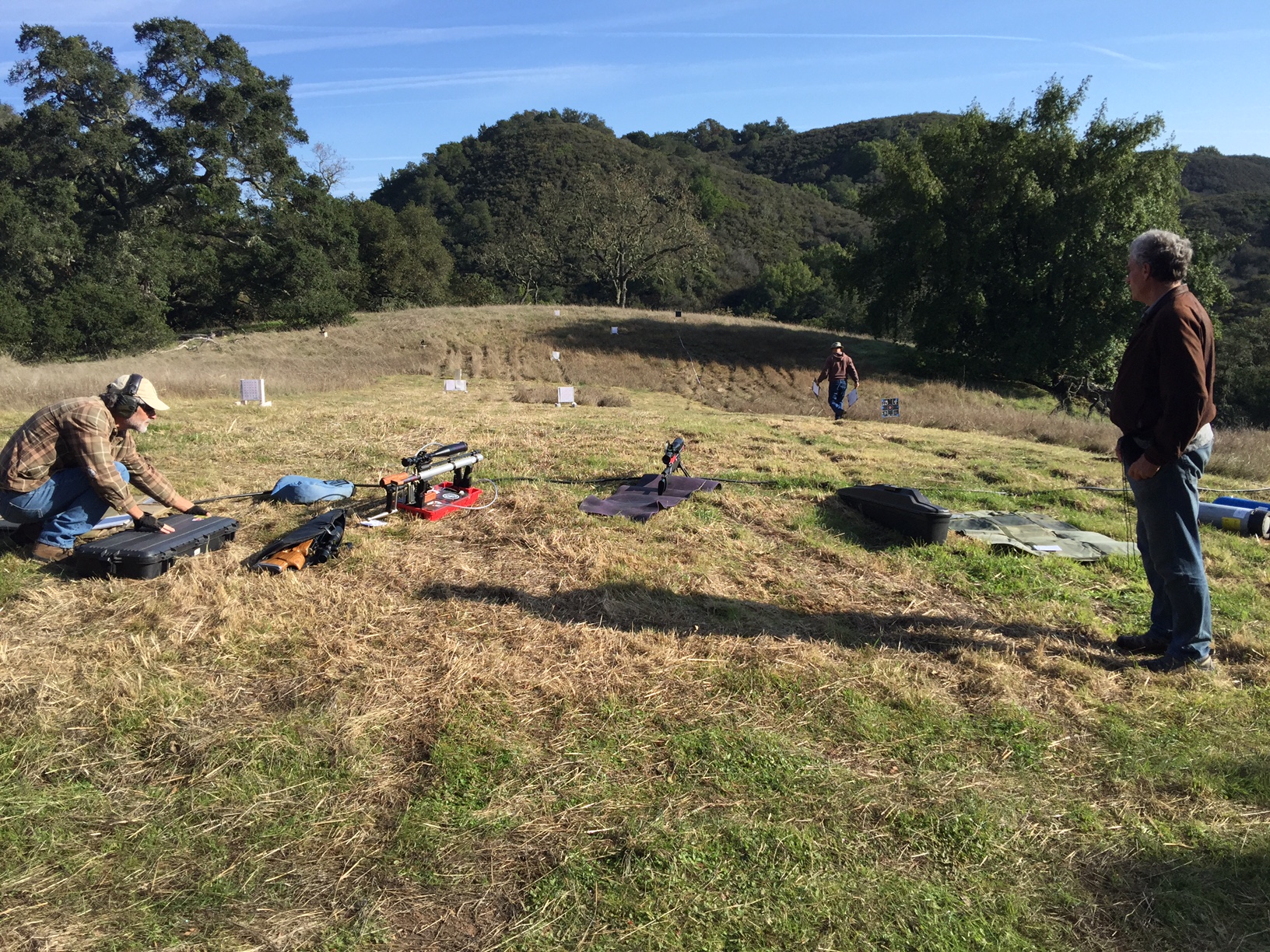 Start of the course loop: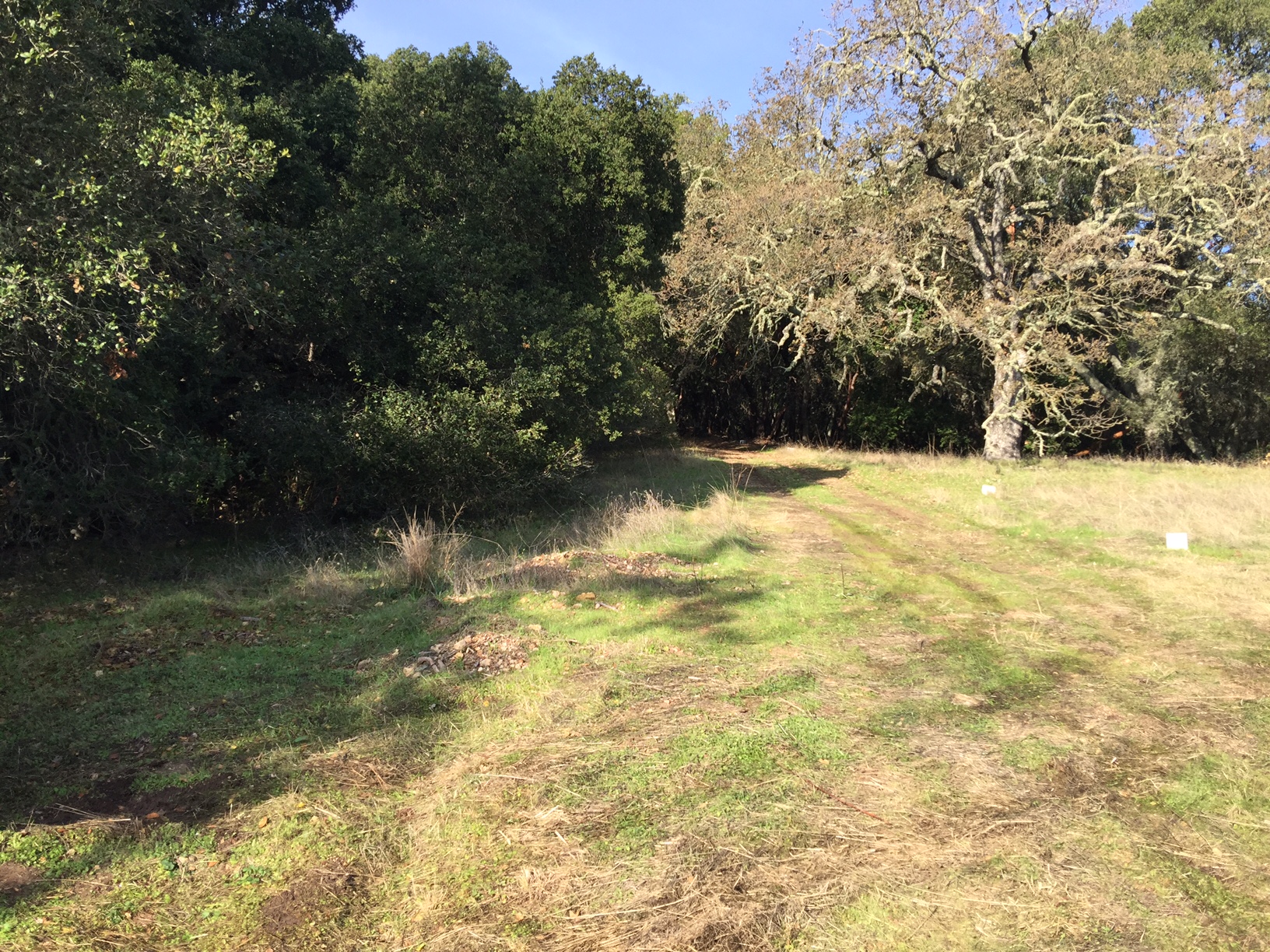 Along the stagecoach road: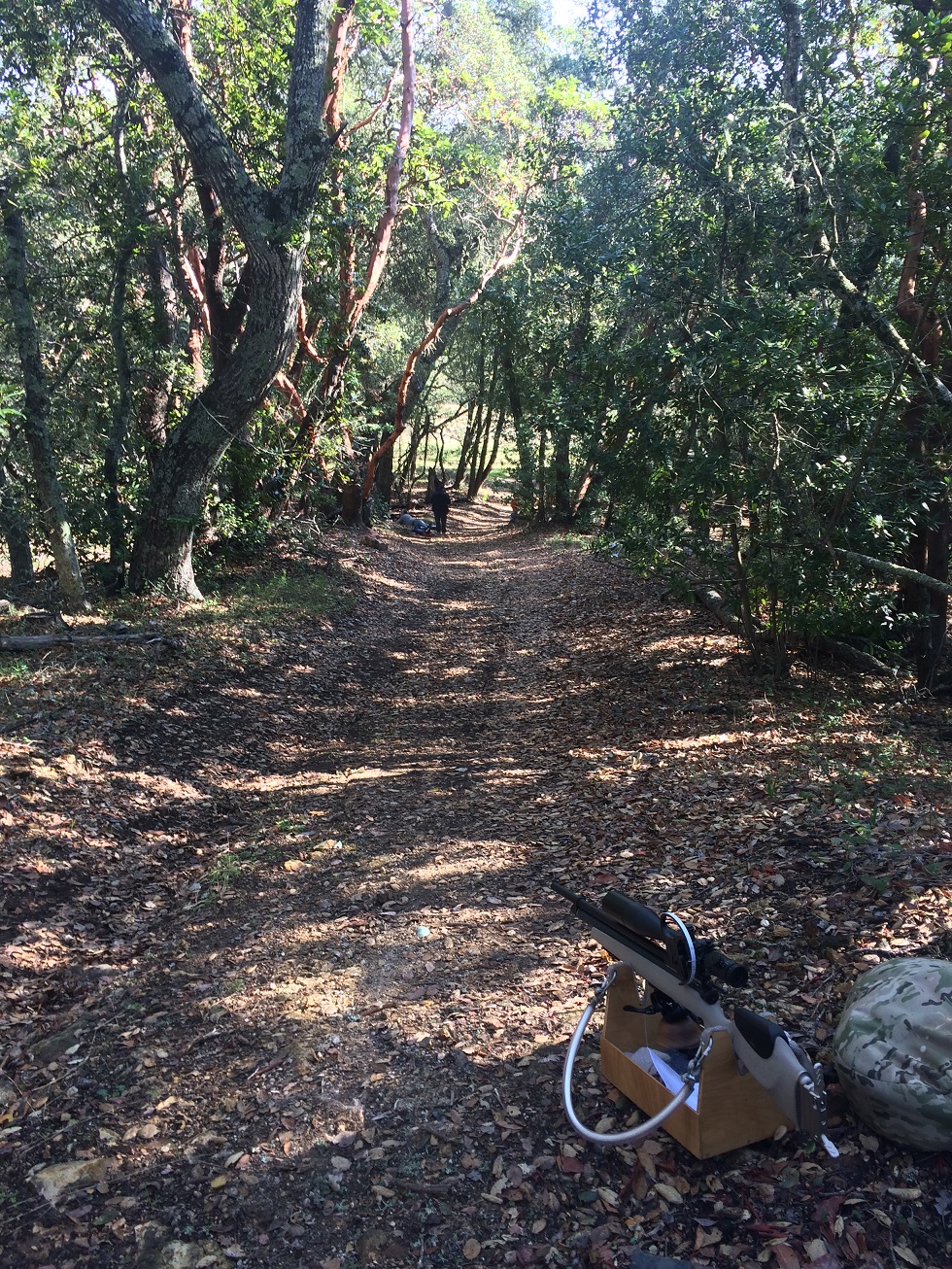 Keith shooting 55 and 50 yard lane one targets: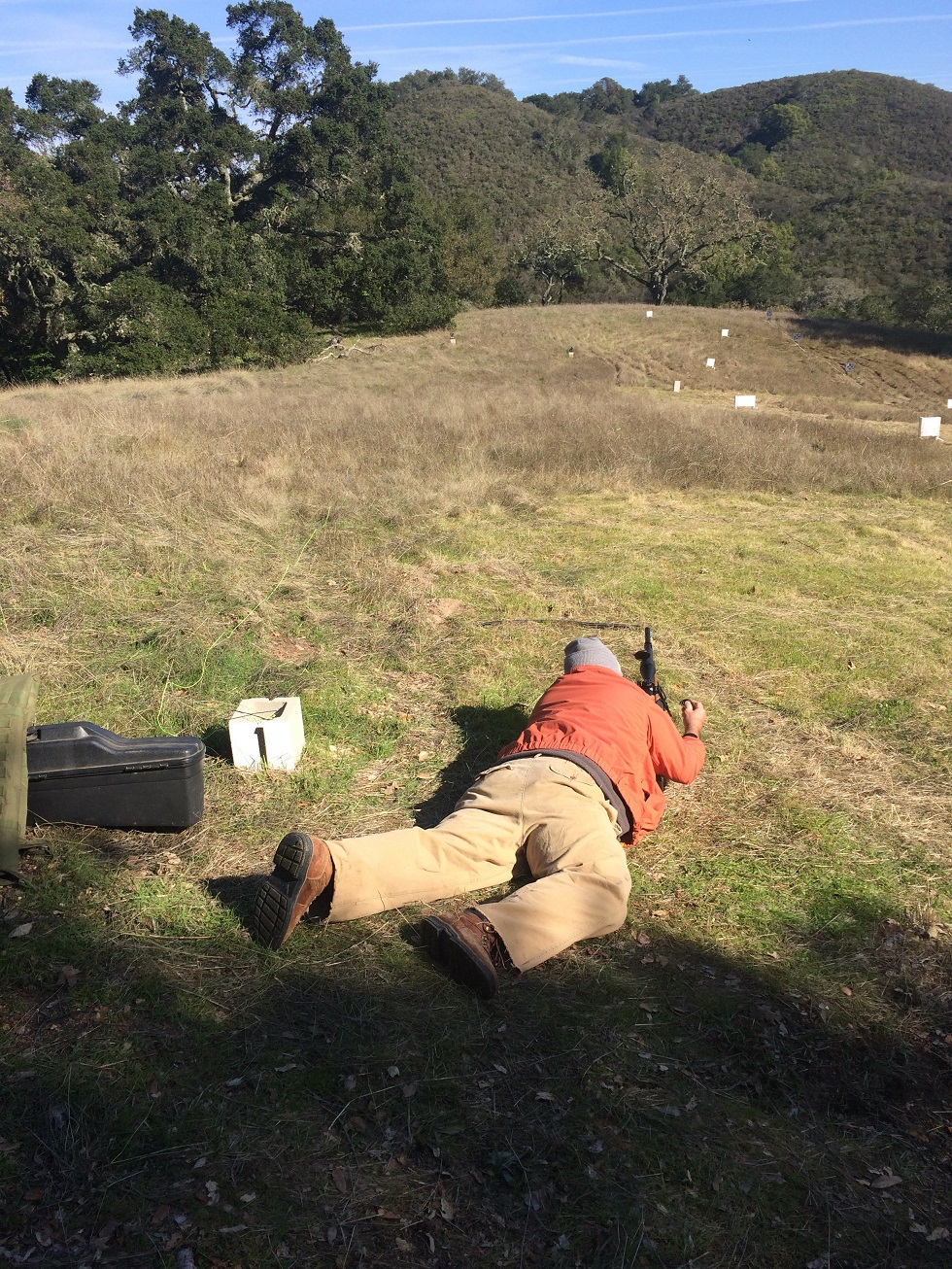 John on the kneeling lane: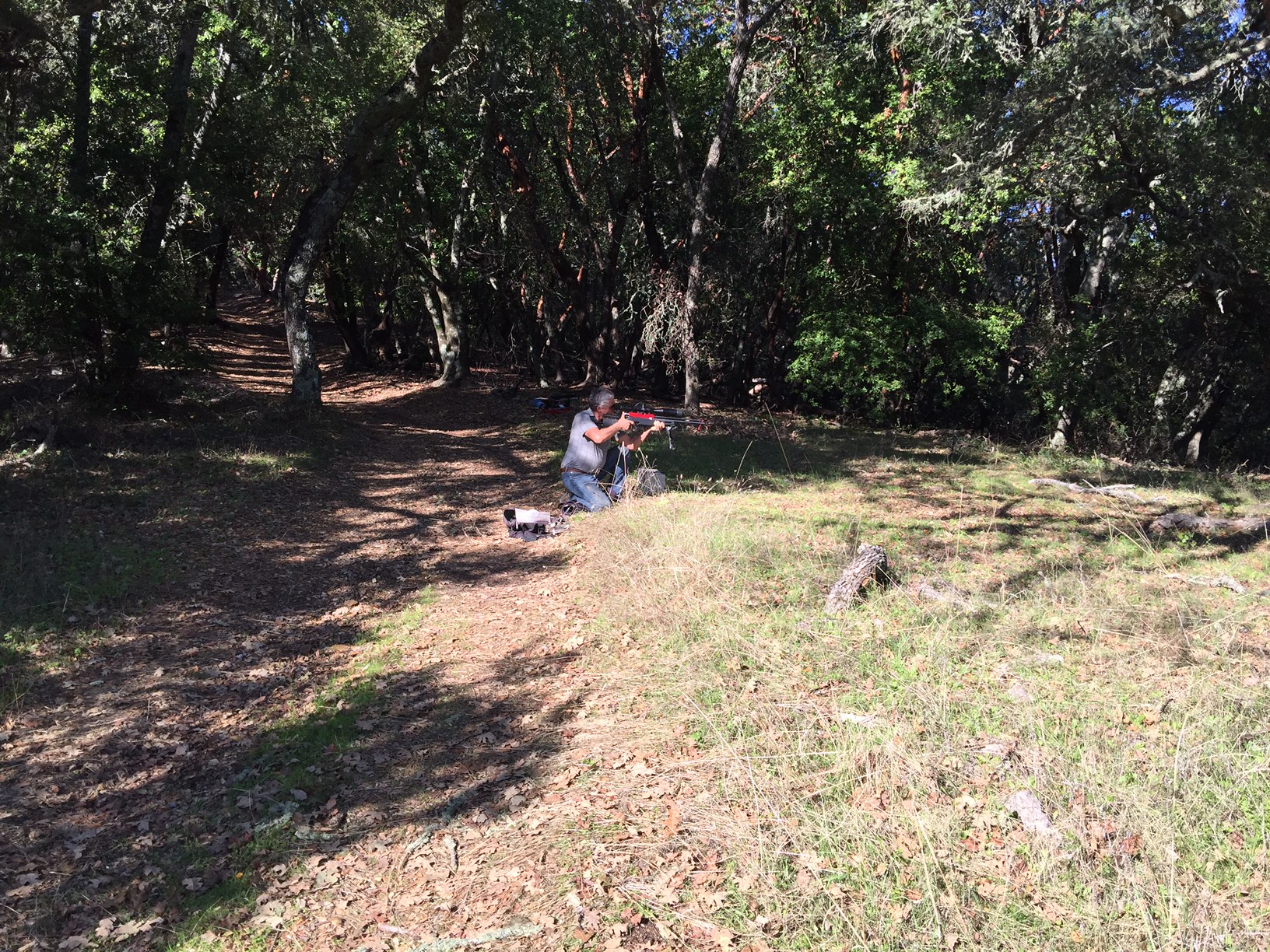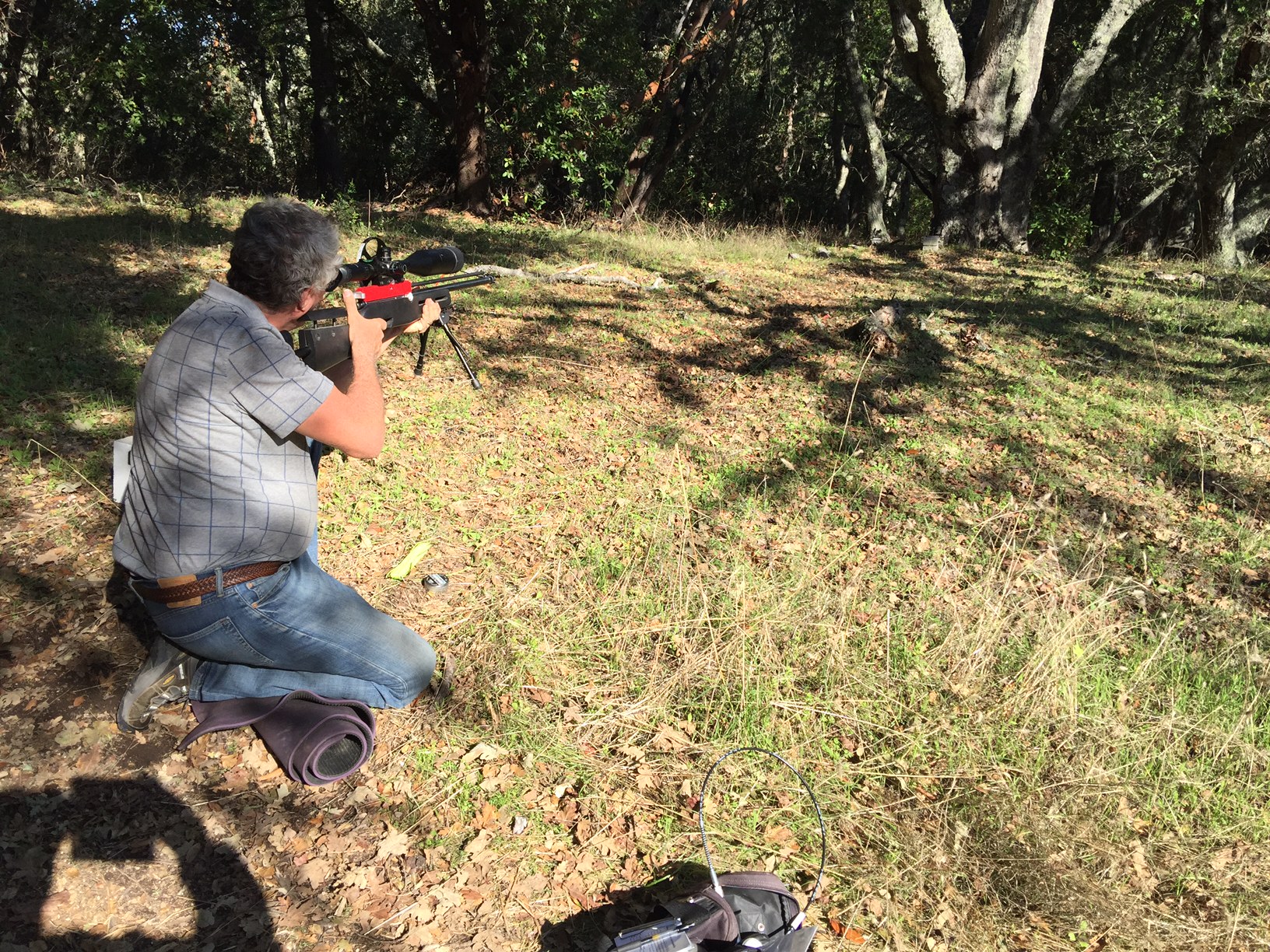 Alan shooting, Keith scoring: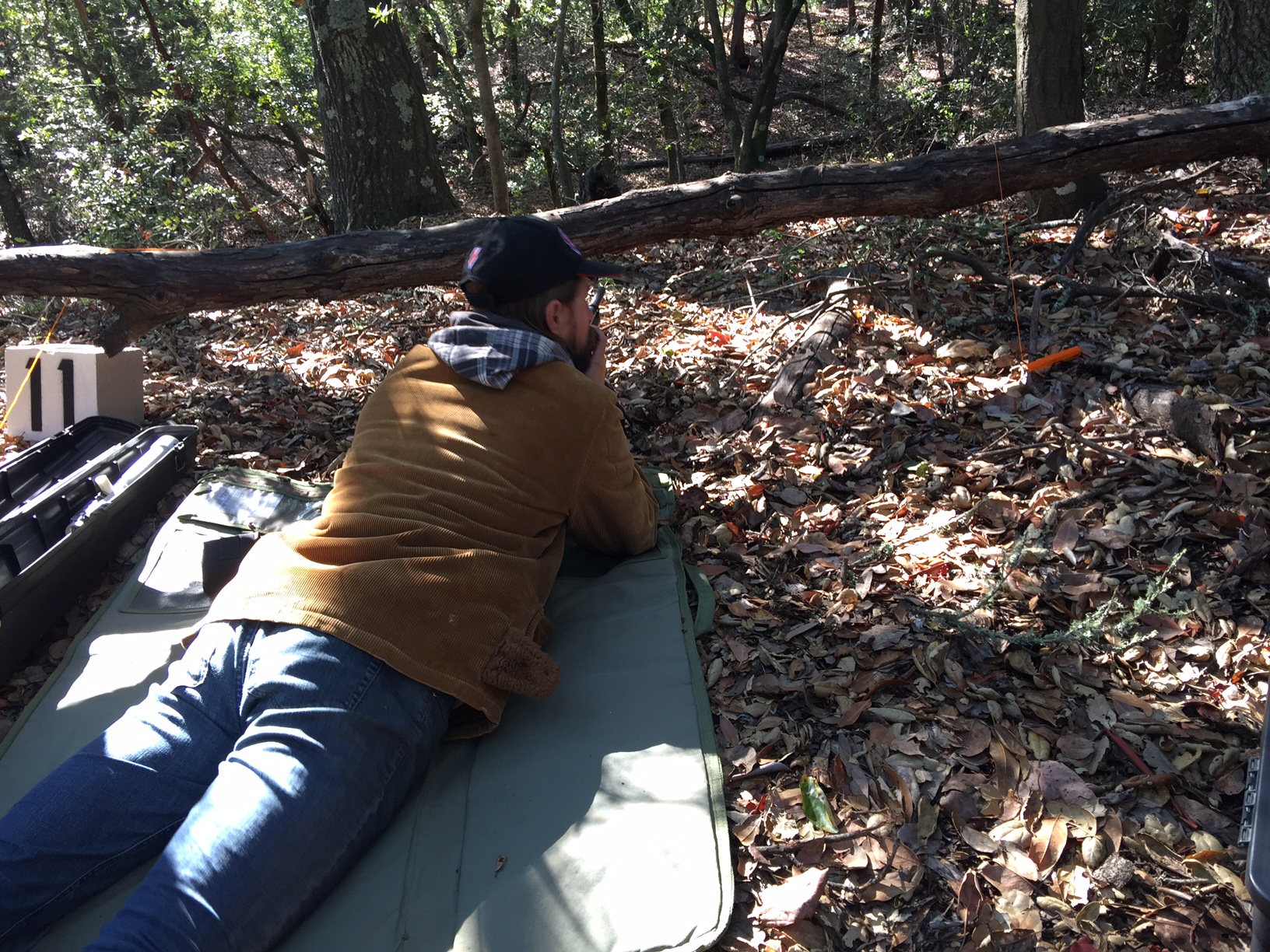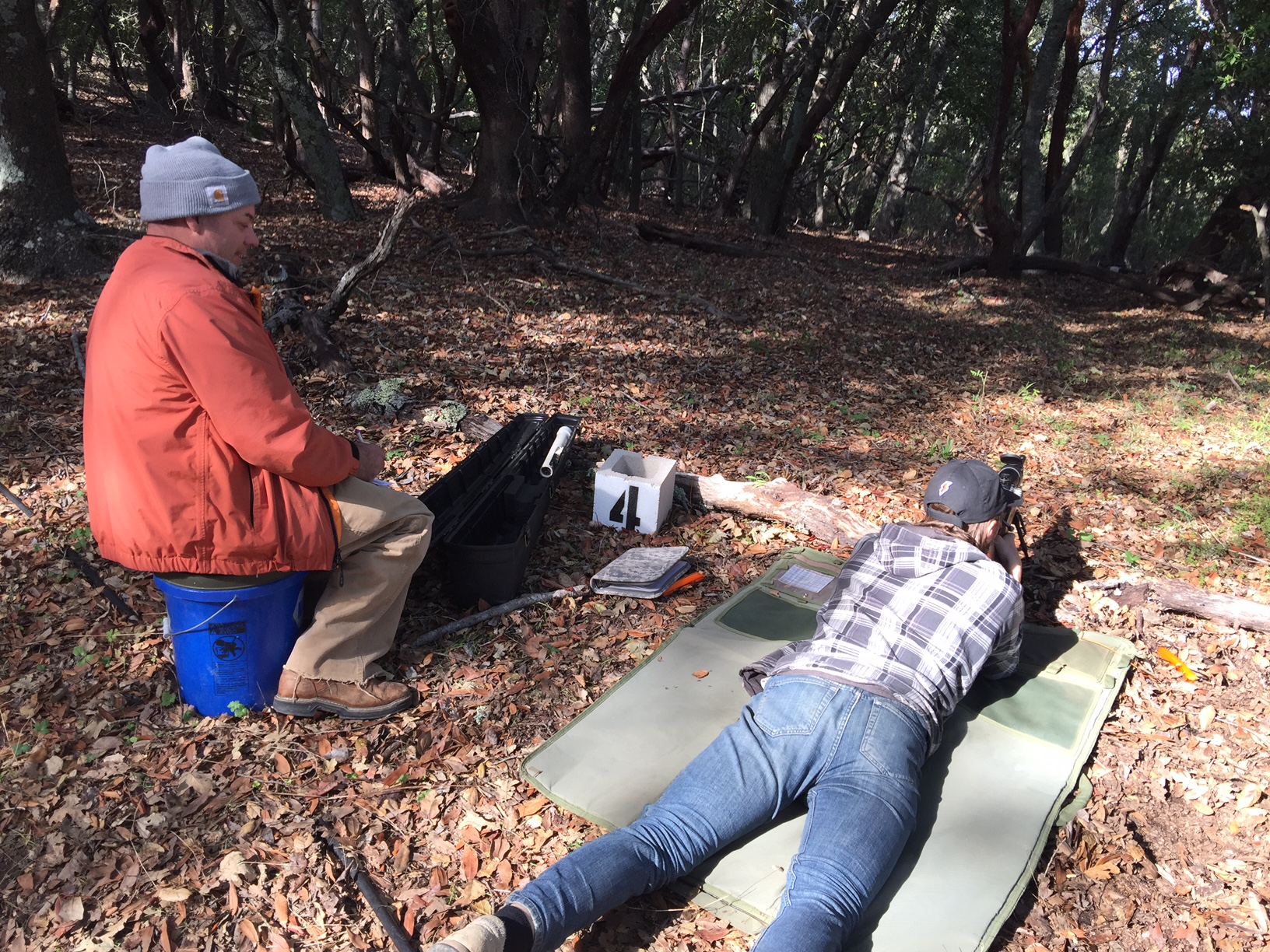 Scott Hull shooting: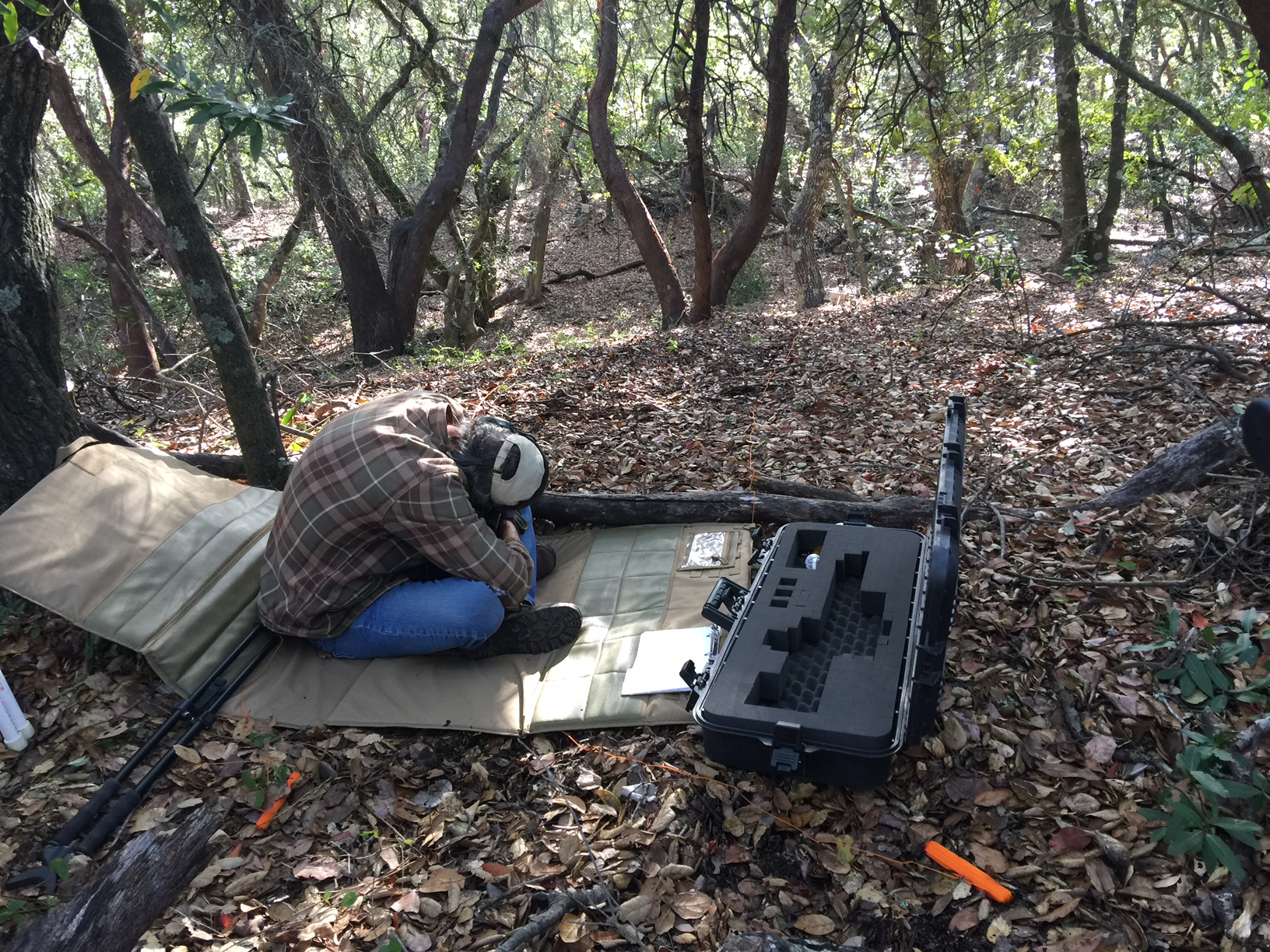 Scott English on the kneeling lane: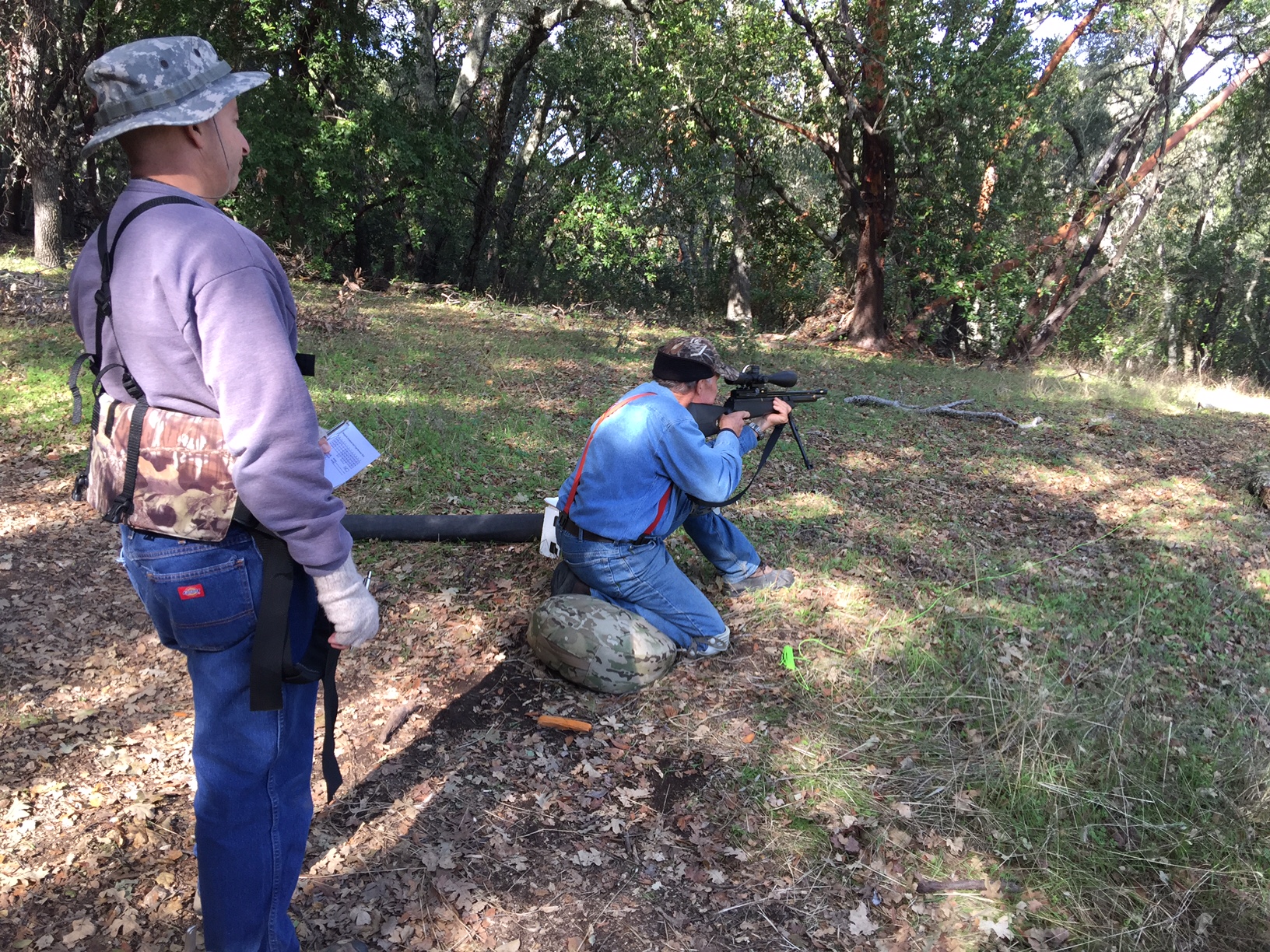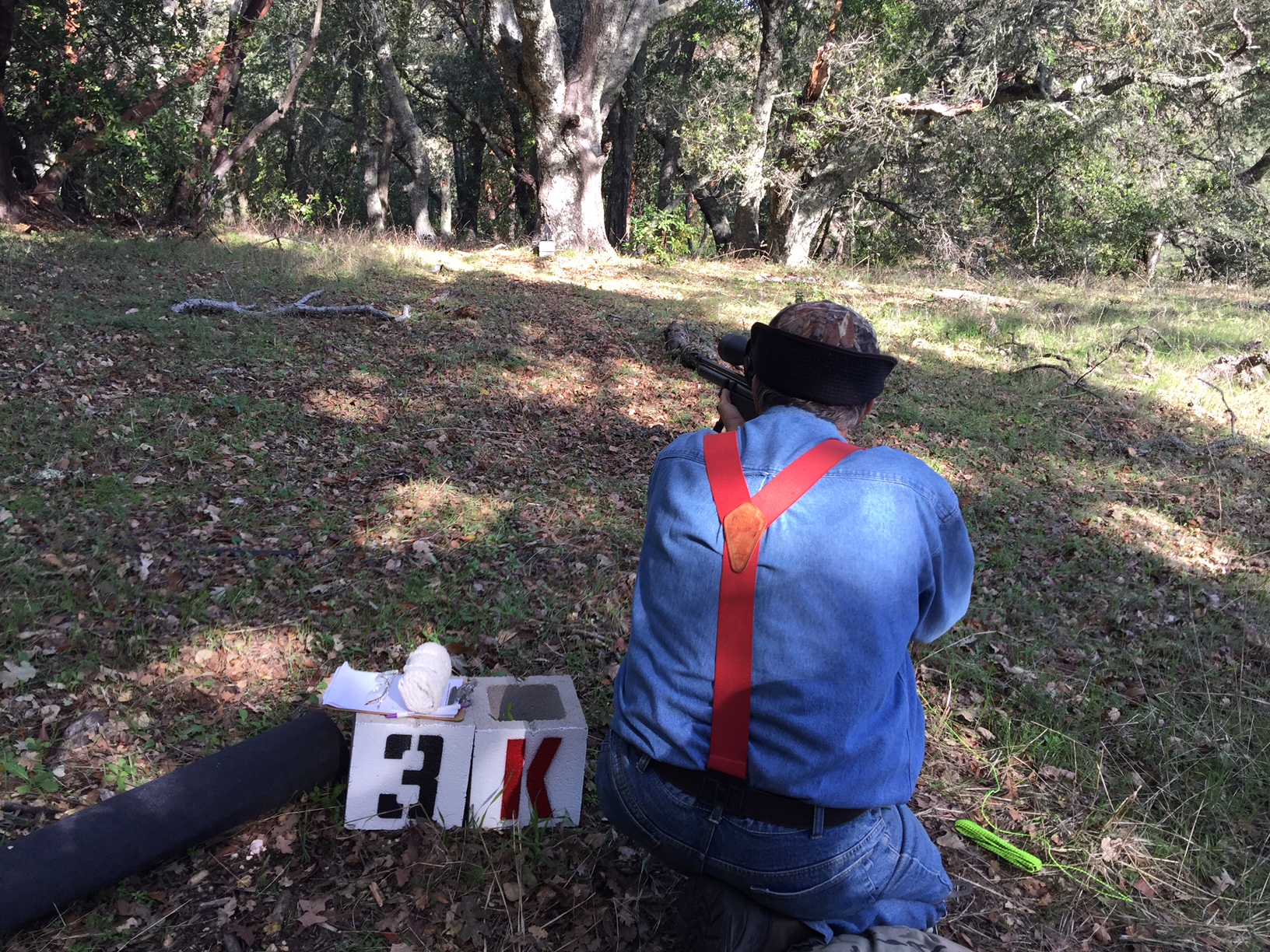 Scott E on lane 10: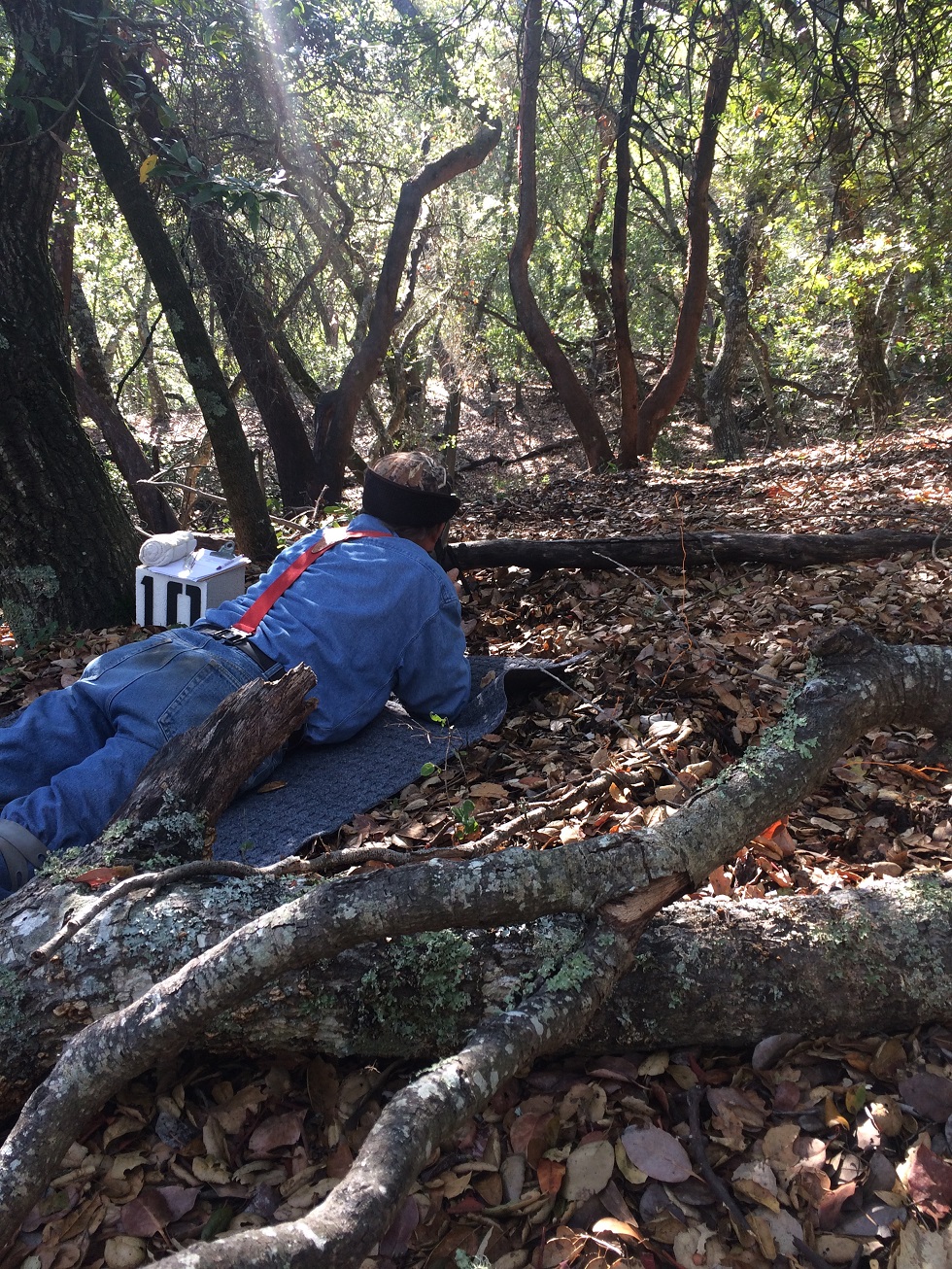 Checking out John's long distance benchrest range: