Temecula Challenge Field Target
Match Report 05/18/2014
By Scott Hull
The monthly SLSBA Field Target match was cancelled for May since both of the SLSBA airgun match directors were attending the Temecula Challenge regional match in Southern California. Following are the report, results, and pictures from that match.

Morro Bay Airgunners/SLSBA competitors: Alan & Scott Hull


Temecula Challenge - Where the hot winds seem to suck the moisture out of you faster than you can pour it down your throat. Drank literally gallons of water during the match (and beer and soda afterwards). Mica and granite dust saturate your clothes and blow into every crevice of your rifle. Turning the grease and oil into grinding compound. After Day 1, I wipe down everything, and at least clean the exterior of dust, dirt, sweat, and blood. By day 2, I'm thinking that I'll need to tear my piston gun down and clean it out.

And after each day of competition - eat, drink, stay up late, talk about airguns, match rules, tell war stories.

I talked my son, Alan, into scheduling some extra time off work to make the trip with me this year. Spending the weekend with friends and loved ones under challenging conditions doing things we love to do. We go home wiped out but thrilled from the experience.

Alan shot a great match, ending up overall Champion after a three way shootoff. On Saturday, I was either incredibly lucky or I was just "in the zone" on my wind reading. I shot a fantastic first day score for a piston gun under these conditions and managed to hold on for the Piston class win on day two. It was a very successful weekend for the both of us.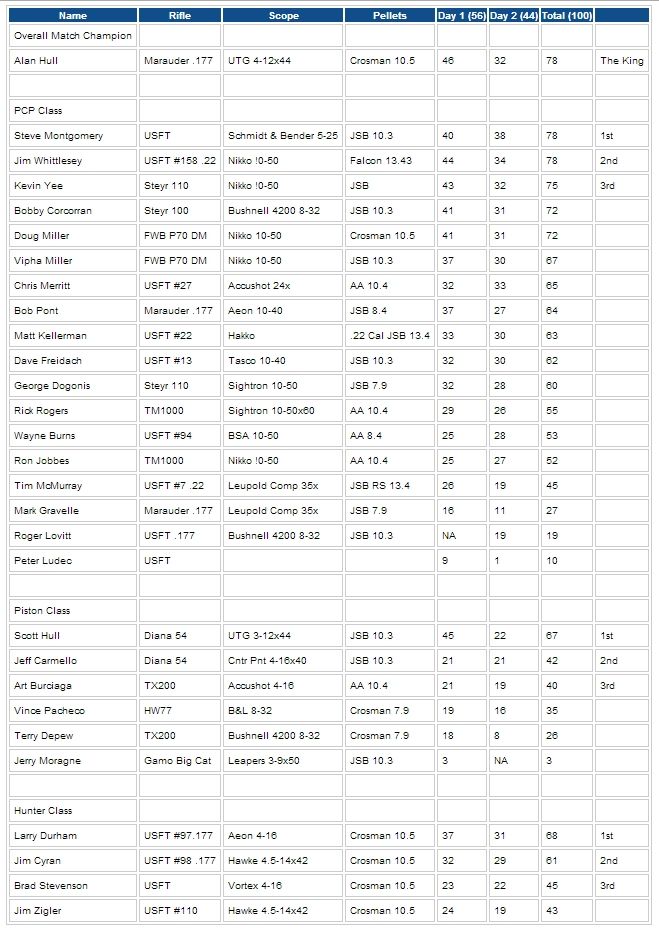 Here are some pictures and commentary from ones persons perspective:
Preparation continues on Thursday before the match weekend:

One of the residents:

Terry Depew and Bobby Corcoran distributing targets and bases out on the course:

Steve chips in as well :-)

Thursday evening after a grueling day of setup:

The Hull camp site:

Friday afternoon and more competitors arrive. Those winds are going to be fun:

Friday evening at the site-in range:

There were some big fires farther south. The Millers still donning masks after driving up through the smoke filled air. We were fortunate to be above most of the smoke:

Friday night at the hangout:

Bob Pont, Art Burciaga, Mark Gravelle:

The finely tuned machines of Doug and Vipha Miller:

Yours truly, Scott Hull, and LD:

Andrea prepares LD for the big match:

The final site-in before the match:

Two time AAFTA Grand Prix Champion and 2011 National Champion Doug Miller waves as he grabs his gear. Many top FT competitors come to the Temecula Challenge:

2013 AAFTA Open/Piston National Champion, Kevin Yee with his Open/PCP Steyr. Kevin has been competing in WFTF/Piston lately and I was looking forward to some more piston competitors. He explained about his past experience at Temecula and why he did not bring his WFTF piston gun. The gist of his explanation: "Don't bring a knife to a gun fight":

Belly flopper extraodinaire, Alan Harold Hull checks his Marauder at the site-in range:

Past winner of the Temecula Challenge piston class, Terry Depew tests his TX200:

Ron Jobbes selected the TM1000 from his stable for the big match:

Jeff Carmello with his full power Diana 54:

Brad Stevenson takes a break to pose. Brad flew in from Utah and shot a borrowed USFT. Brad has made the Temecula pilgrimage for a number of years:

Competitors gather for the shooters meeting:

Vince Pacheco braves the winds with his 12fpe HW77:

Jeff Carmello shoots for a target up in the rocks:

George Doganis endures the heat in full WFTF regalia. He is determined to better his 12fpe game no matter the conditions:

Back lanes with a view of the adjacent valley:

Matt Kellerman shooting a USFT:

Art Burciaga cocks his TX200:

2013 AAFTA Open/PCP Grand Prix Champion, Jim Whittlesey, nails a kneeler. Bobby Corcoran watching:

Chris Merrit spots a little bird:

Jeff Carmello ready to shoot:

Much needed food after a long morning:

Jeff gets ready to chow down:

Resting after a tough day:

On day one, the wind was relenteless. The "still" camera shots don't do it justice:

My hammerin 54 takes a break from double duty. I was looking forward to seeing if it could hold up to the "acid test" of the Temecula Challenge. To be competitive under these conditions, I wanted a spring gun that could launch heavy pellets at as close to 20fpe as possible. It's potential became obvious the first day of the match. The problem issues that this rifle is known for were still there however. The full power sled gun was shaking parts loose on the second day. It took a couple of lanes before I realized that something had to be wrong and it was not just the wind. By then, Jeff was well ahead of me as I was only hitting 25% in the first few lanes. The muzzle weight ended up shaking loose on mine more then once. Each time requiring another wasted point to accertain the new POI after retightning. About 2/3rds through the match, Jeff's Diana 54 shook the guts loose in his scope so we shared my now limping 54 in order to finish out the course. With two lanes to go, I had overtaken Jeff for the day by one point. We did not finish on a high note as both of us got skunked on both targets in the last lane. But we were happy because we had FINISHED!:

Alan attempts to jinx LD:

A curious spectator watches us from above:

Lunch is served and scores are tallied:

Top three tied scores shootoff for Temecula Grand Champion honors. Alan Hull, Jim Whittlesey, and Steve Montgomery:

Down to the final two. Steve also competes in high power, long range, tactical rifle matches in the Arizona desert (up to 1200 yards!). He knows what he's doing. His wind doping skills were obvious. Steve hits the far bell target in the first round but misses in the final round leaving an opening for Alan:

Alan nails his first shot in the final round to clinch the overall:

Art Burciaga accepts 3rd place Piston award from match director LD:

Jeff Carmello, 2nd place Piston:

Scott Hull, 1st place Piston:

Kevin Yee, 3rd place PCP:

Jim Whittlesey, 2nd place PCP:

Steve Montgomery, 1st place PCP:

Jim Cyran, 3rd place Hunter:

LD, 2nd place Hunter. Now you see why LD usually wants to stand on his tip-toes for pictures:-)

The real LD:

Alan Hull, overall Temecula Challenge Champion. Air tank prize donated by Jerry Moragne:

In the past, the Open/PCP winner was considered the overall champion. Alan set a new precedent and prompted the match directors to follow up with an award specifically for the overall champion, regardless of division. That award and adjustments for the Hunter/PCP awards will follow.
PS: I'm so proud of that boy!
The Western states match is in August. We already have some top level shooters registered. There is a 60 shooter limit, so if you want to compete, get your registration in early.
I told Jim Cyran that he is not allowed to help at the Western States match. He did way to much work to make the Temecula match happen. I want him to show up at our WS match, relax, enjoy, and shoot his best (that actaully goes for all out of town competitors).