Bergquist Invitational Field Target Match #2
Central Coast Field Target
Match Results 02/19/2017
| | | | | | | |
| --- | --- | --- | --- | --- | --- | --- |
| 1 | Eanetta, Terry | Benjamin Marauder | Sightmark 10-50x60 | JSB 13.4gr | 44/52 | 84.6% |
| 2 | Hull, Alan Harold | Benjamin Marauder | UTG 3-12x44 | CPH 10.5gr | 42/52 | 80.8% |
| 3 | English, Scott | Hamerli Pneuma | Hawke 8-32x56 | JSB 13.4gr | 41/52 | 78.8% |
| 3 | Knapp, John | RAW TM1000 | Hawke 8-32x56 | JSB 10.3gr | 41/52 | 78.8% |
| 5 | Hull, Scott | SAG QB58 | UTG 3-12x44 | H&N 8.5gr | 38/52 | 73.1% |
| 5 | Pacheco, Vince | USFT | Sightron 50x | JSB 8.44gr | 38/52 | 73.1% |
| 7 | Bergquist, John | Crosman Challenger | Nikko 10-50x60 | JSB 10.34gr | 36/52 | 69.2% |
"Money shot" winners:
Alan Harold Hull - $5 +$20
Vince Pacheco - $10
For February 2017, a select few made the trip to John Bergquist's hilltop ranch for the 2nd FT match that he has hosted. It was almost called off after the continuing rains that have been hitting most of California. But the hourly weather forecast showed a window of opportunity lasting until 1pm on Sunday. So it was on. The course was tough, including four progressive targets, several long shots, tiny close shots, and some tricky uphill and down hill shots.
In my squad of three, I started out strong cleaning the 50 and 55 yards targets. Only to struggle with the uphill and downhill shots. I finally realized I need an inclinometer again. I missed a few because I did not compensate for the 20+ degree angles. They did not look that steep at a casual glance.
John Knapp reeled me in before the match was over and ended up the high scorer in our squad. We were all somewhat satisfied with our scores until Terry sauntered up and announced his 44/52. Good shooting by Terry as the sole high point man this time around. Vince, who had won the shootoff with Terry last time, was shooting a new (to him) airgun and was not as prepared this time around. Except for a couple of light sprinkles, the rain stayed away long enough for us to complete the match and allowing us time to help John take down the course. Most of us went down the hill to Cambria's Main Street Grill for lunch and chat.
Gathering on the hilltop before heading down the hill in the 4-wheel drives: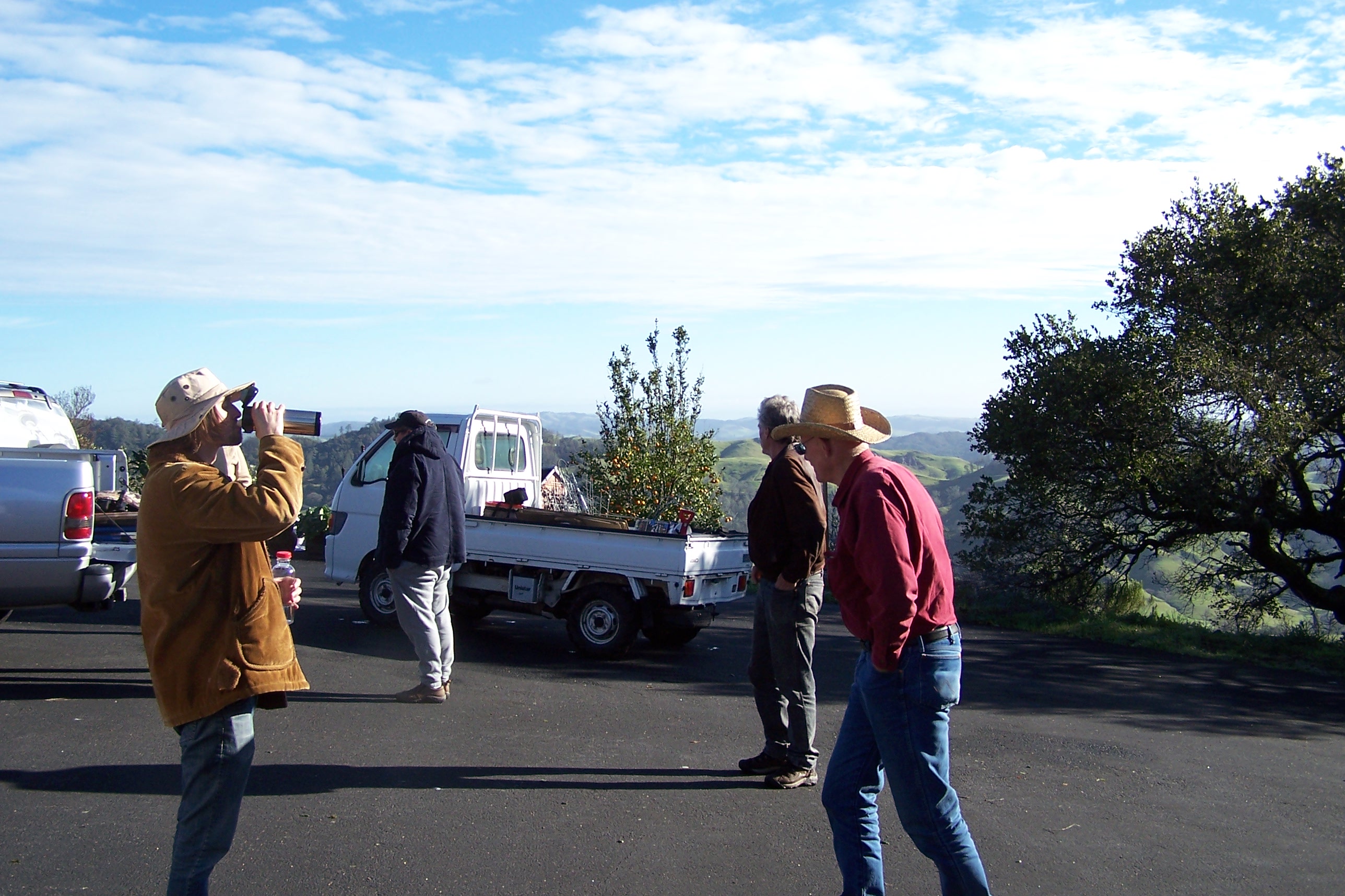 The "guest" cabin down by the Field Target course: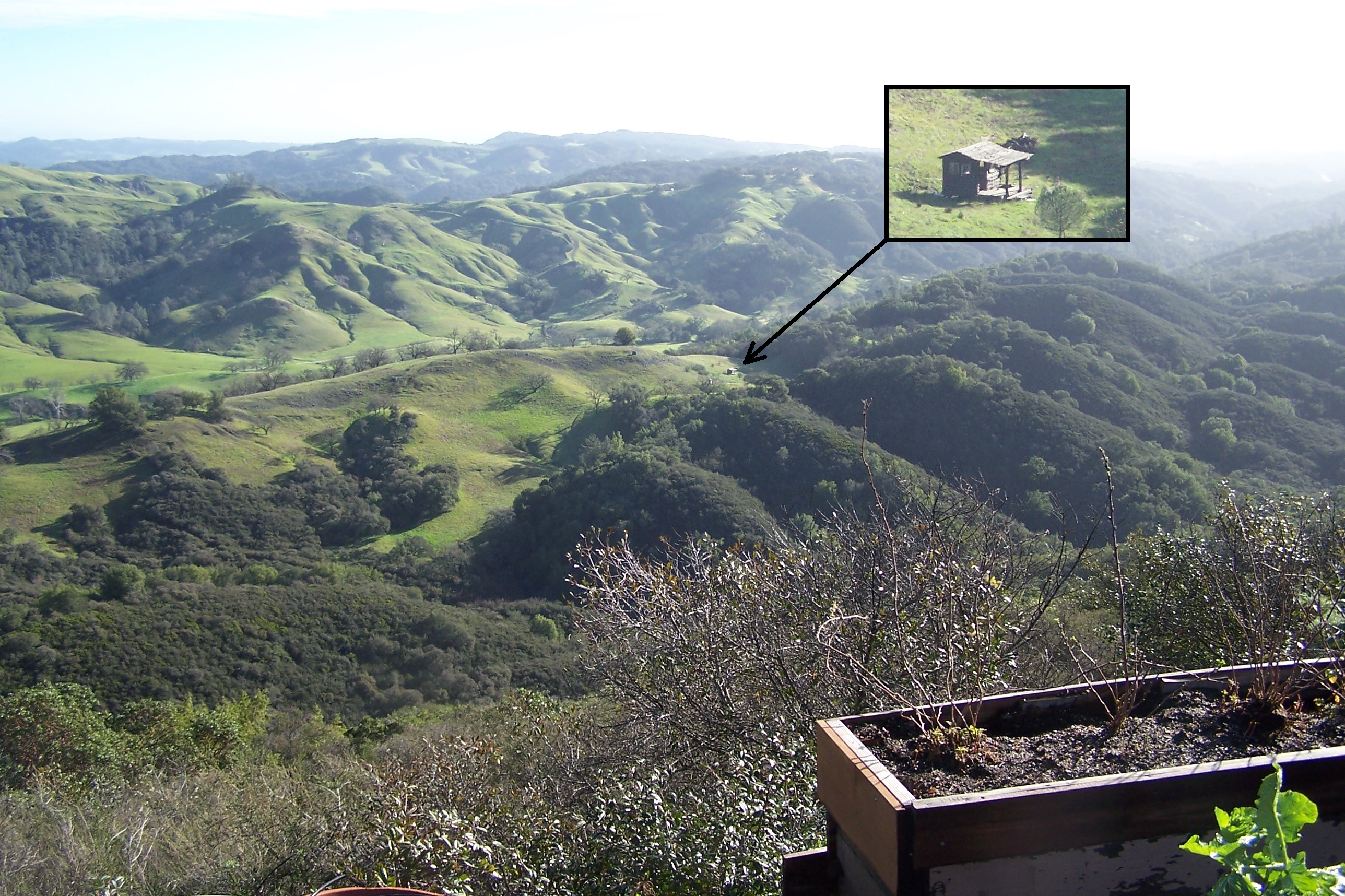 Sight-in (it's about 2000ft elevation):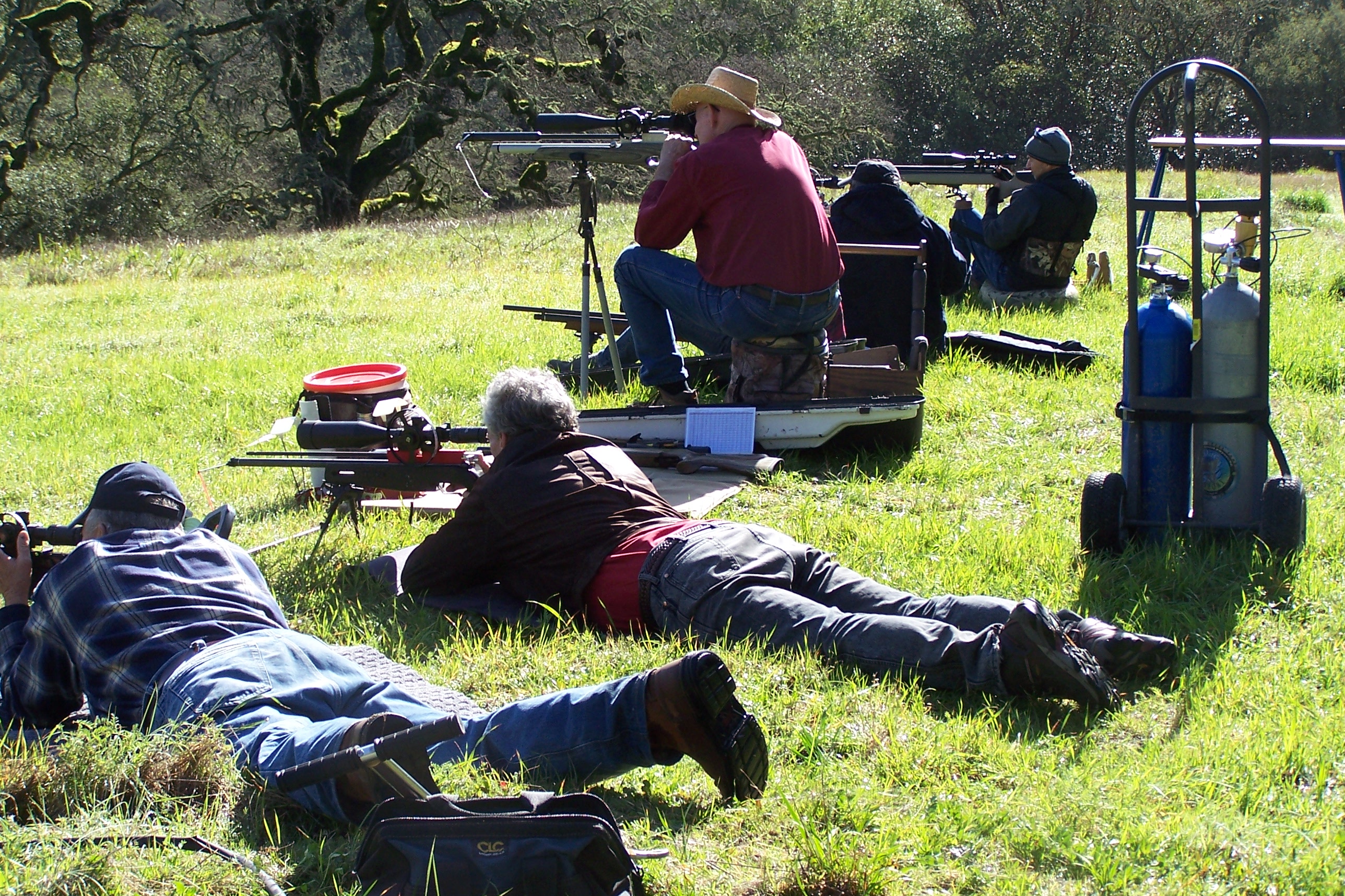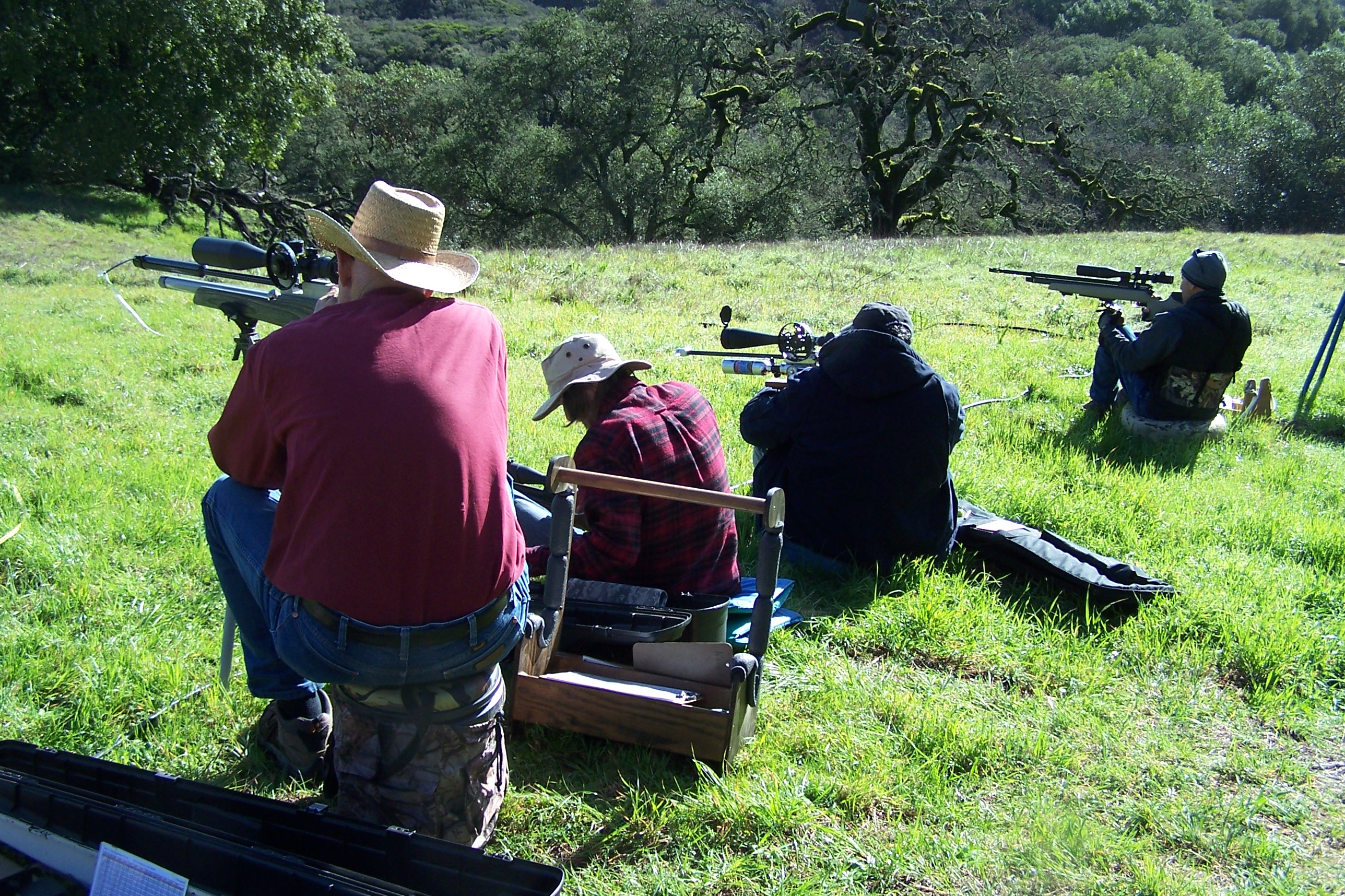 Match is underway: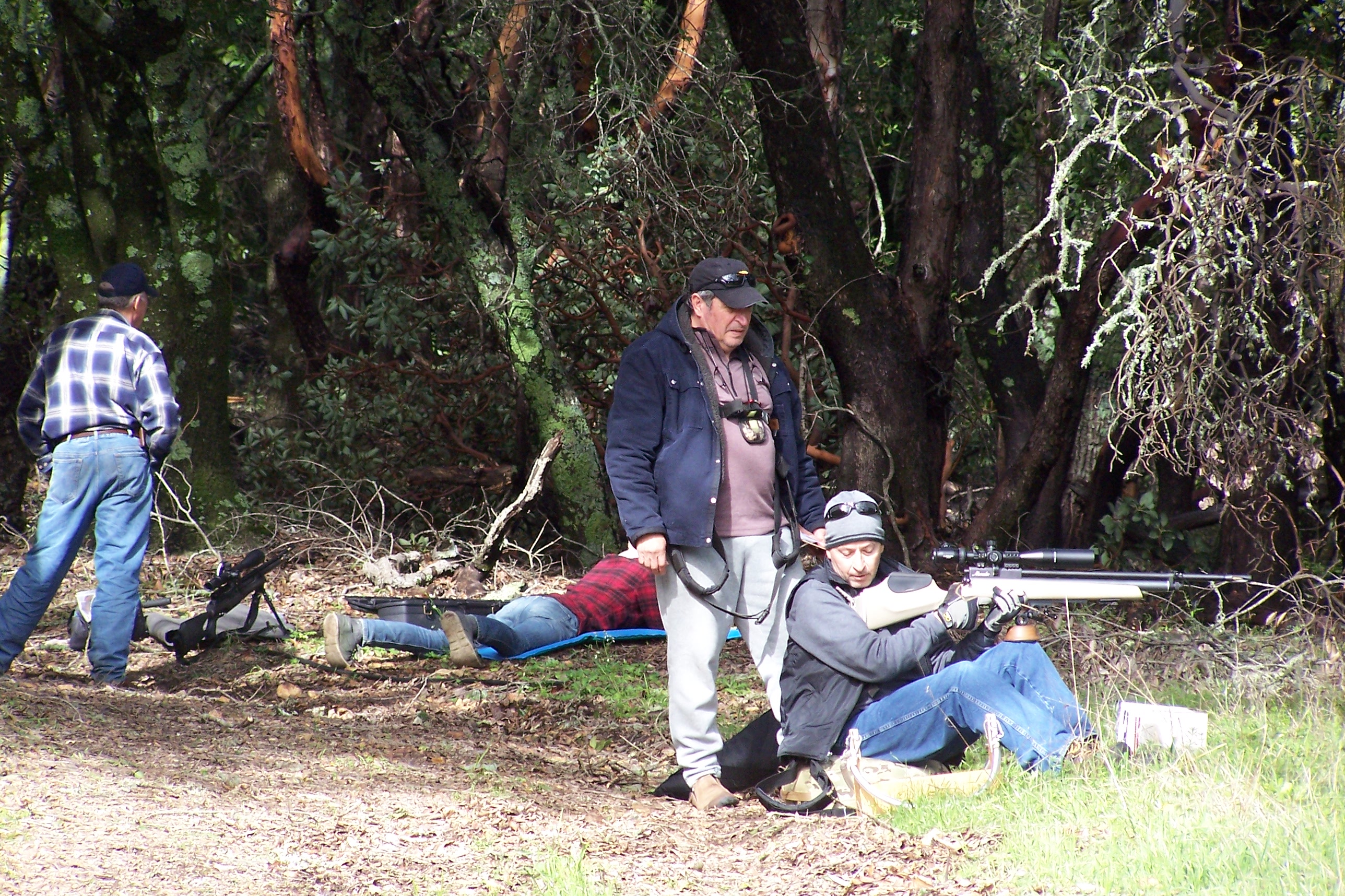 Lane 1, about 55 and 50 yards: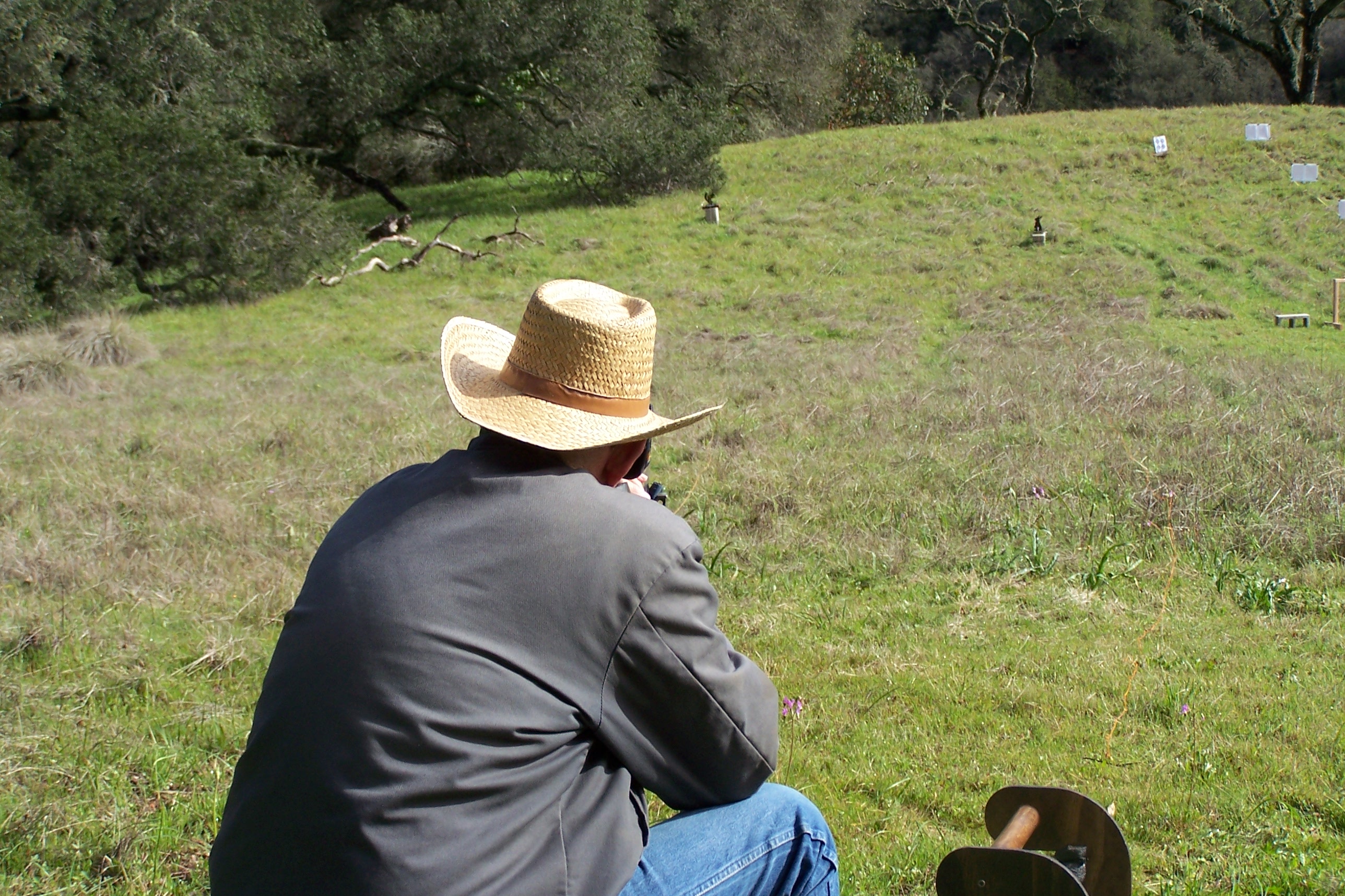 Five standing shots: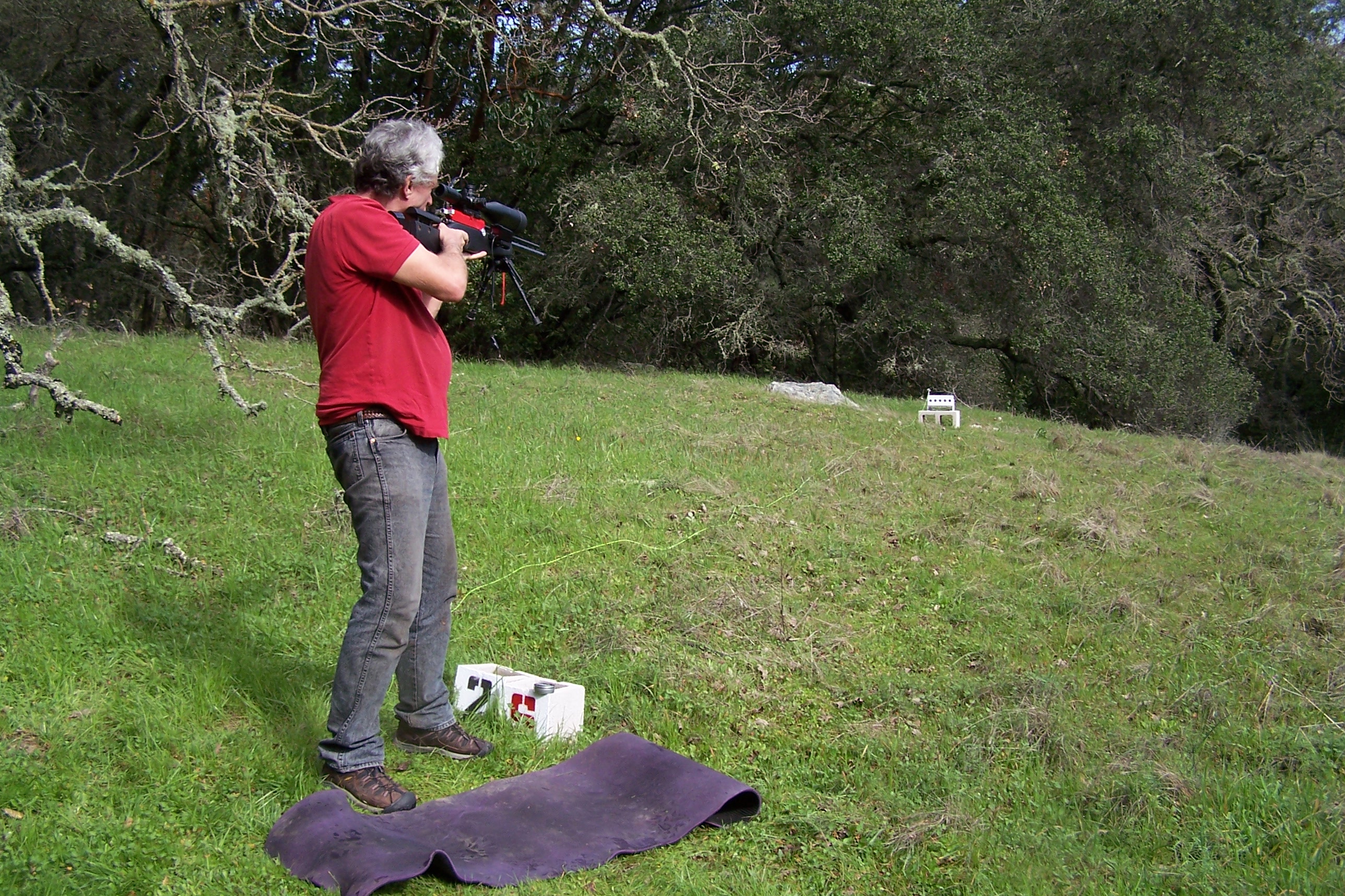 Vince shooting, Terry scoring: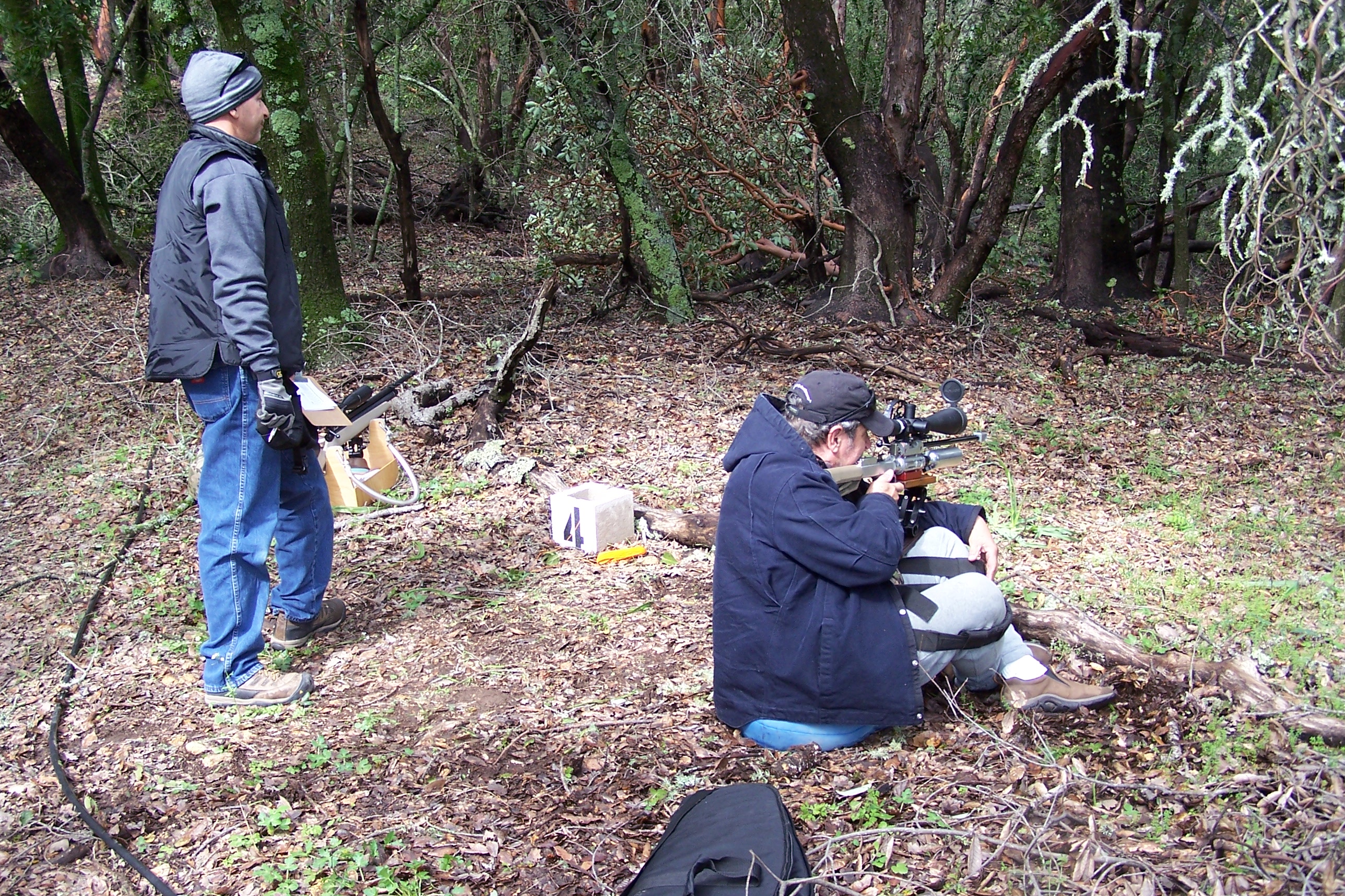 John Knapp stands for the kneelers and hits 3/4: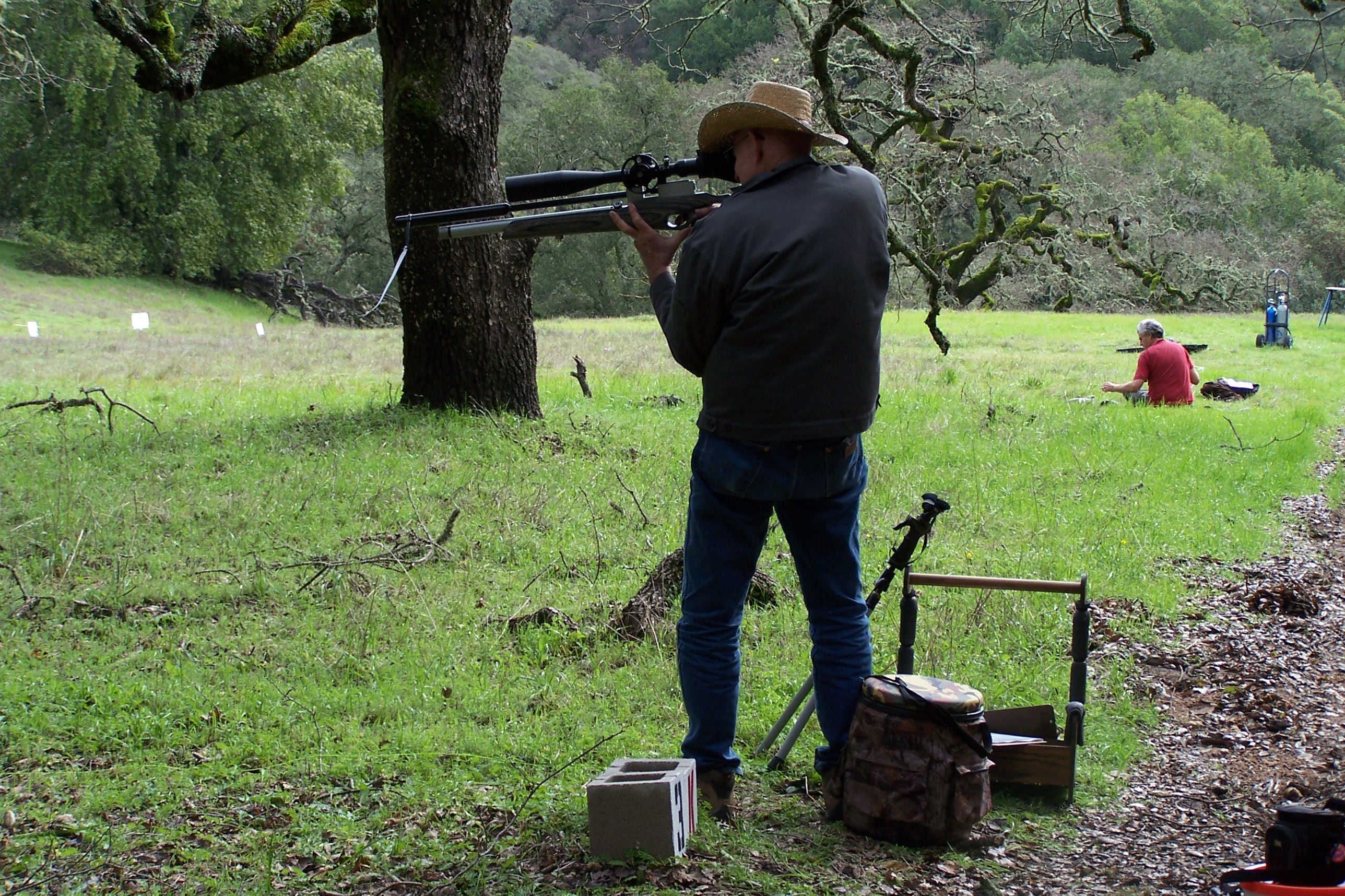 Terry cleans a progressive target with 5/5: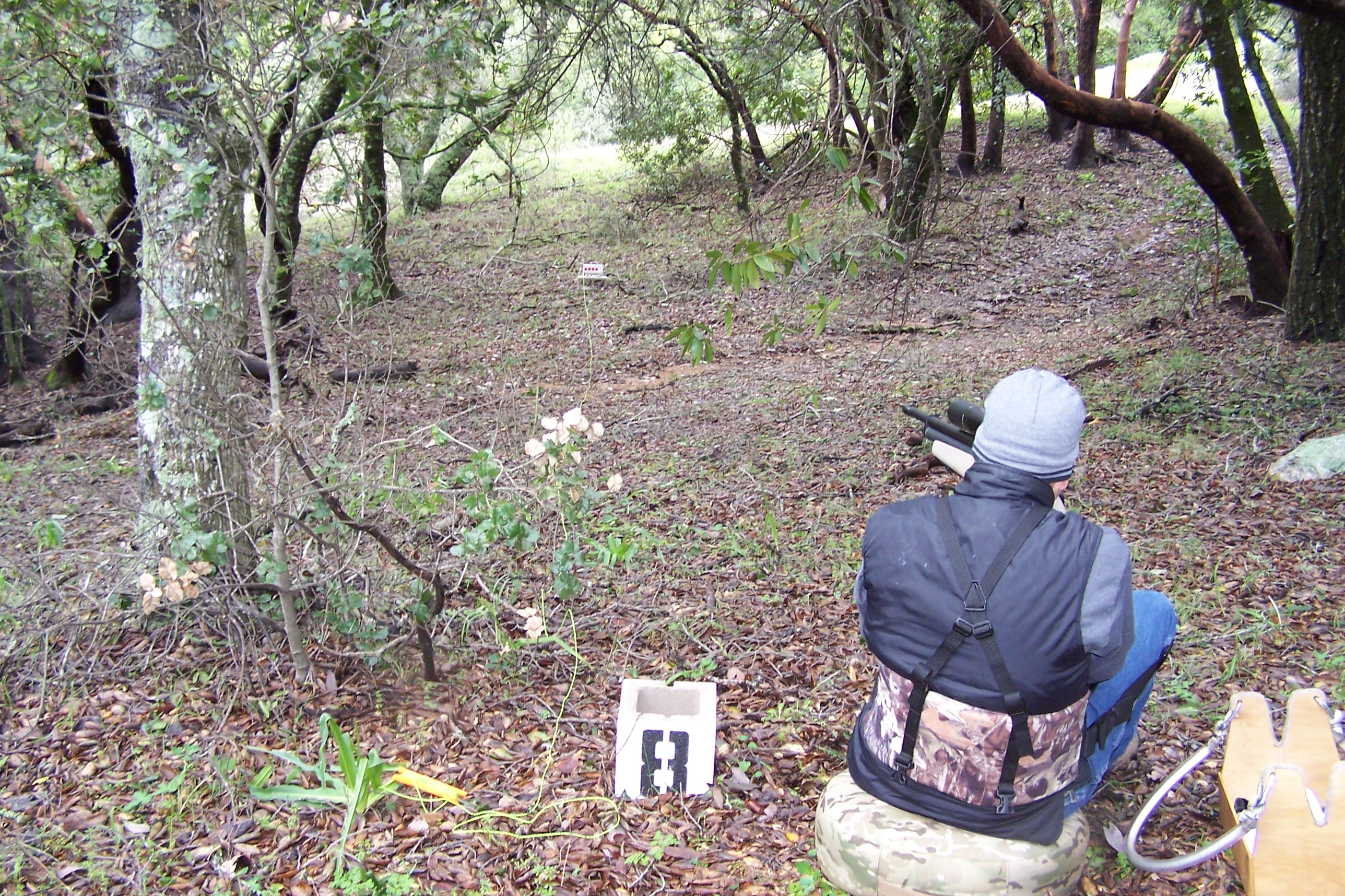 Alan is happy after getting 4/5: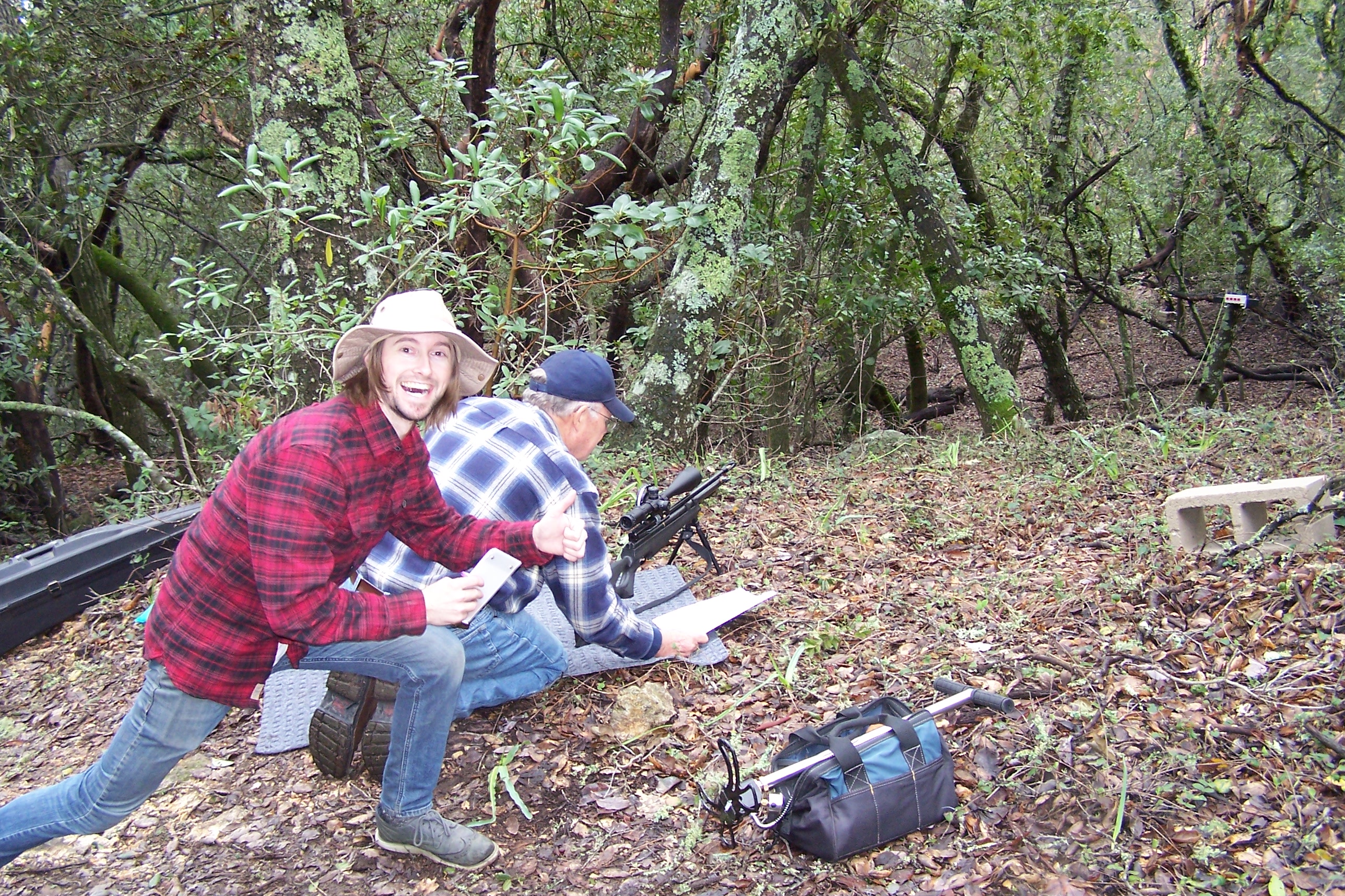 Vince working toward a clean lane 8: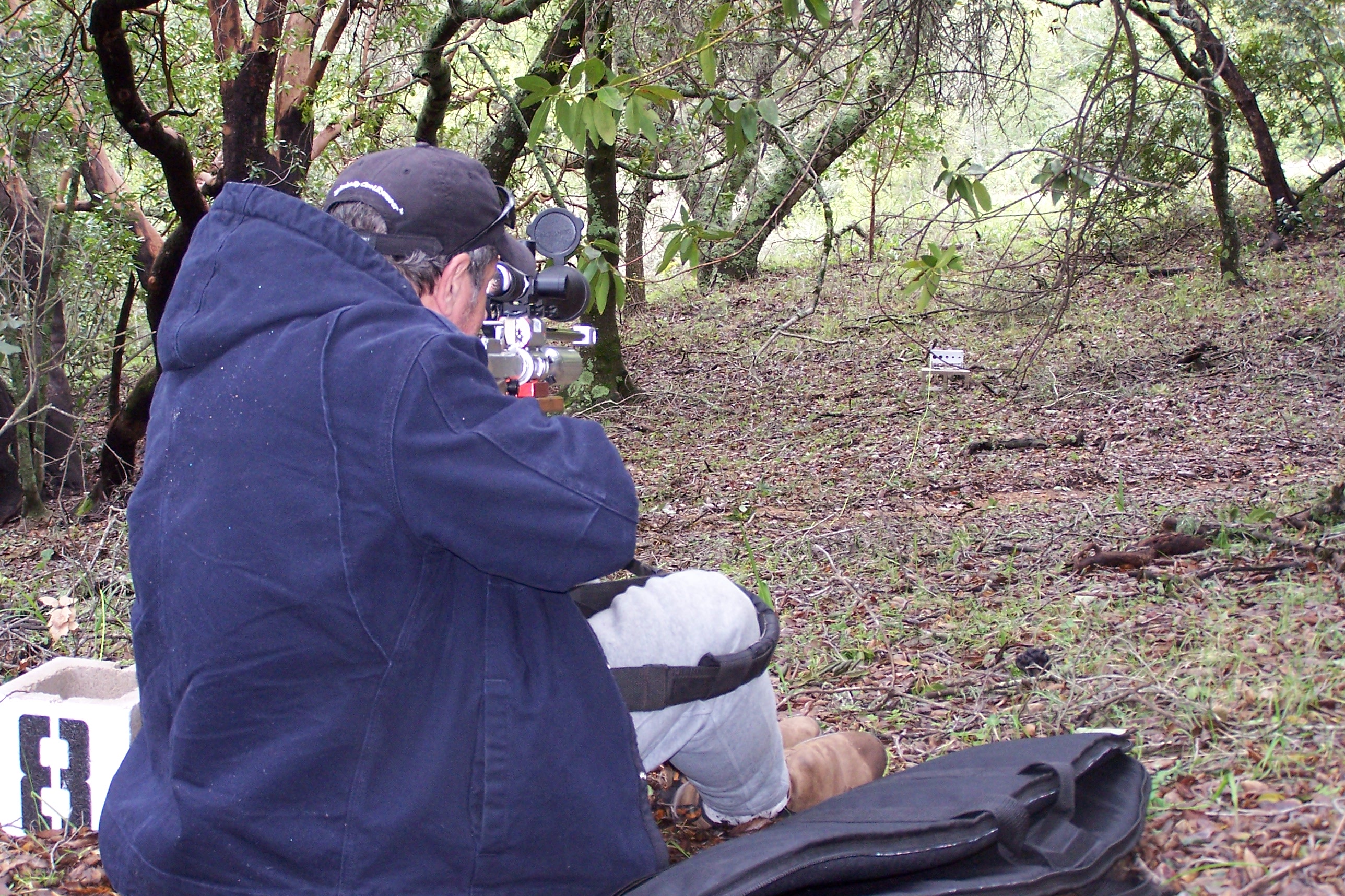 John B on a long uphill shot: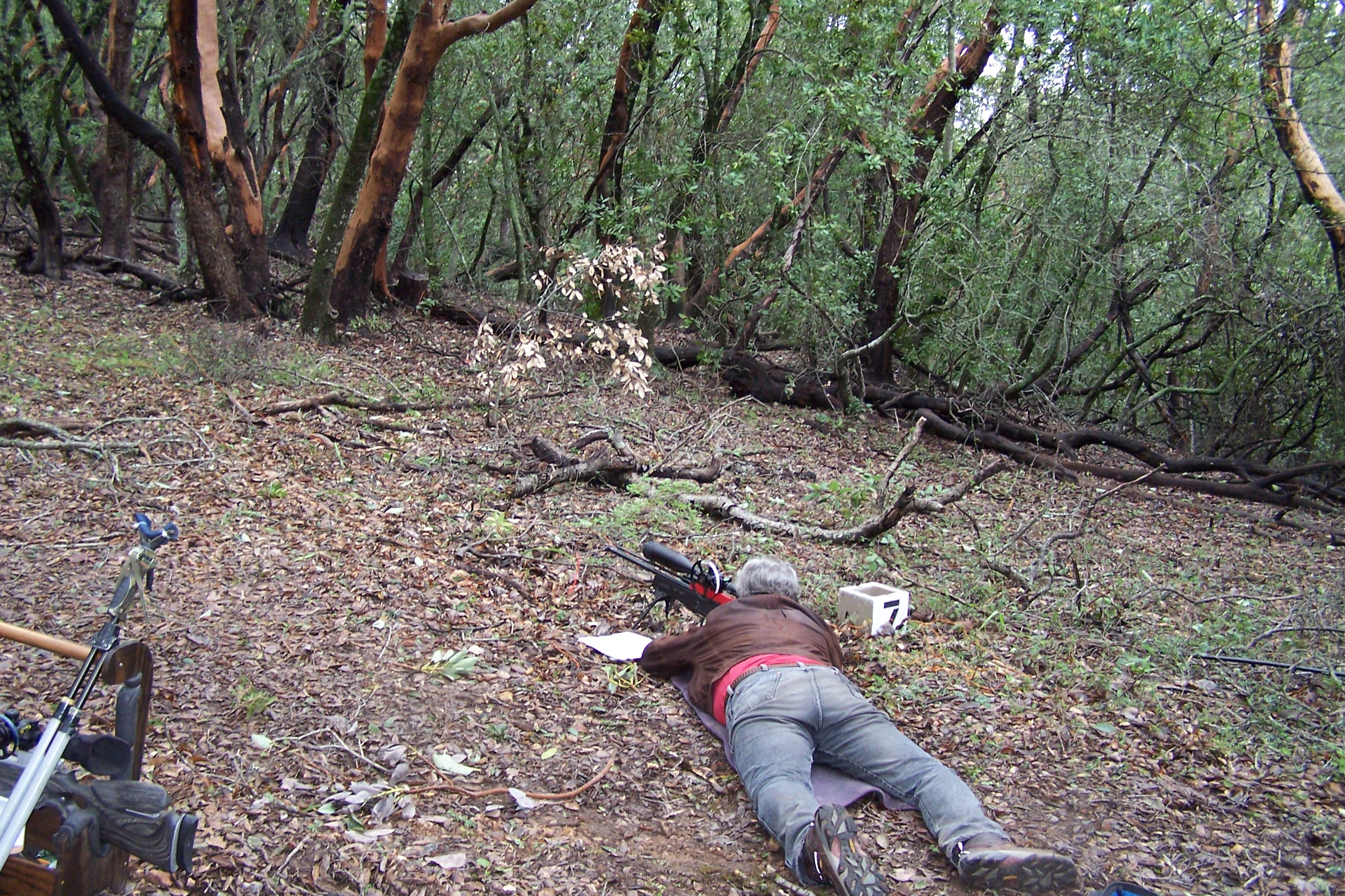 John K on a steep downhill target: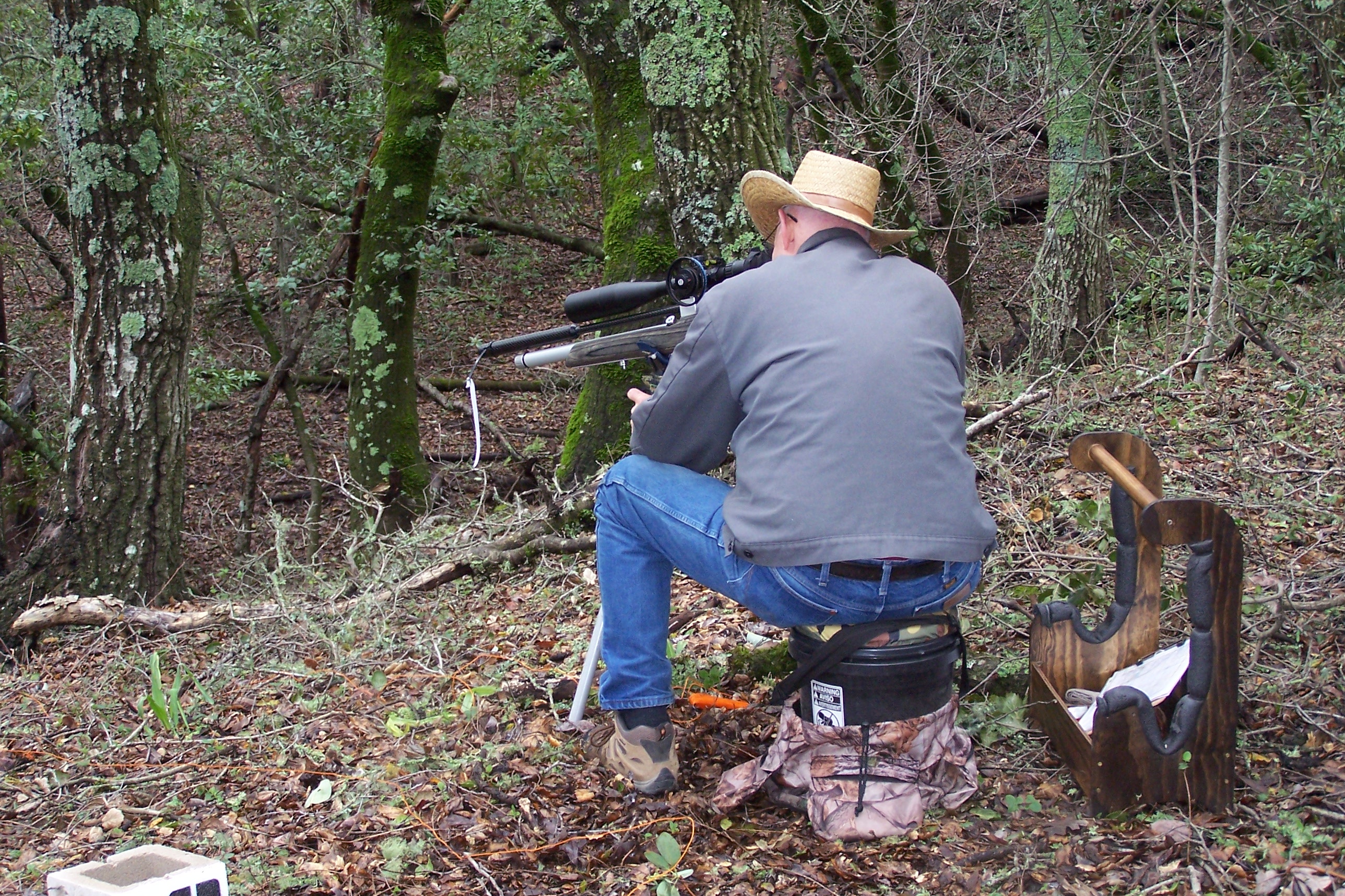 John gets low to shoot under a downed tree: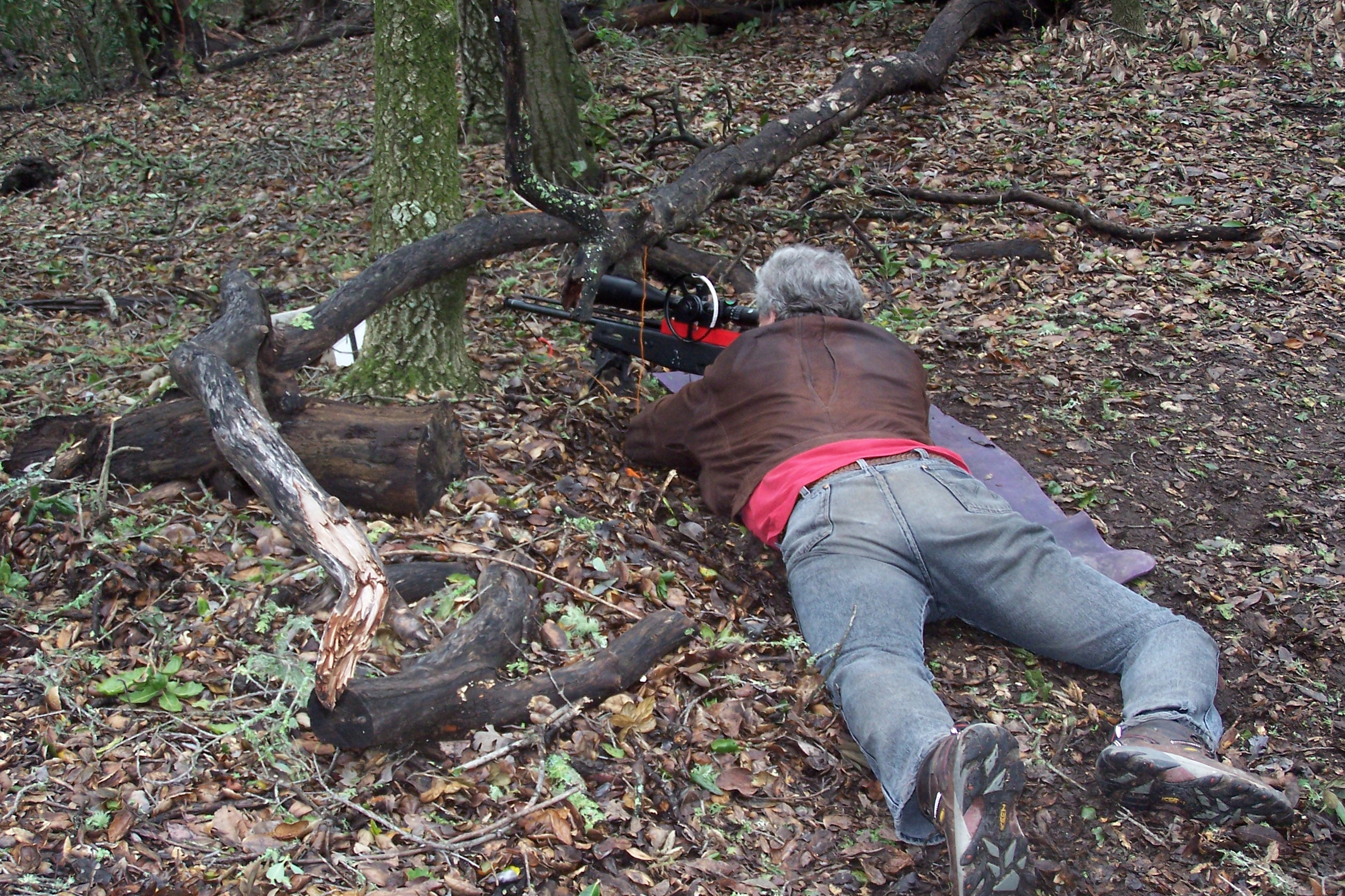 1st - Terry, 2nd Alan, 3rd - Scott E & John K(not shown):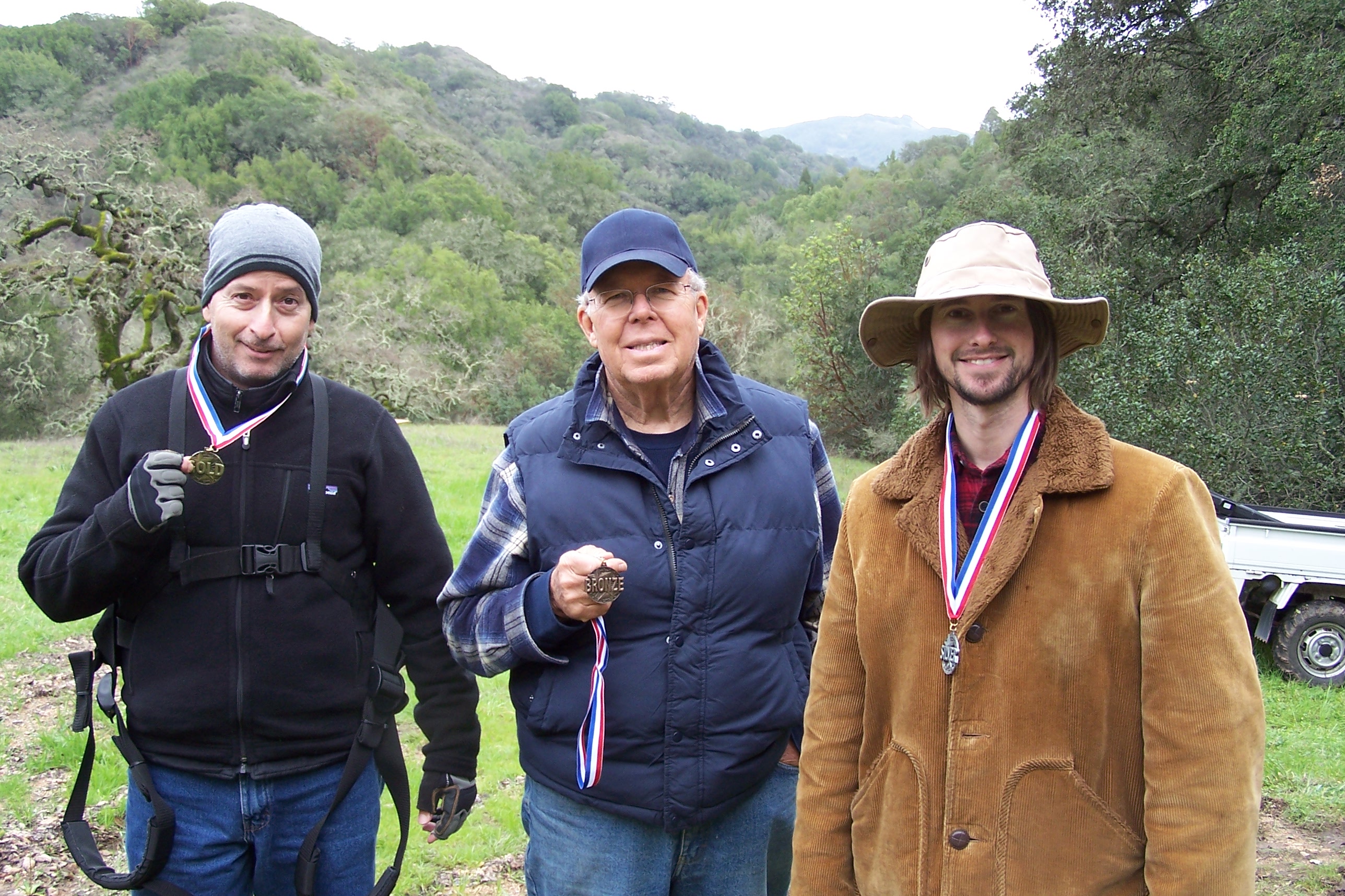 "spitball guns" for indoor practice: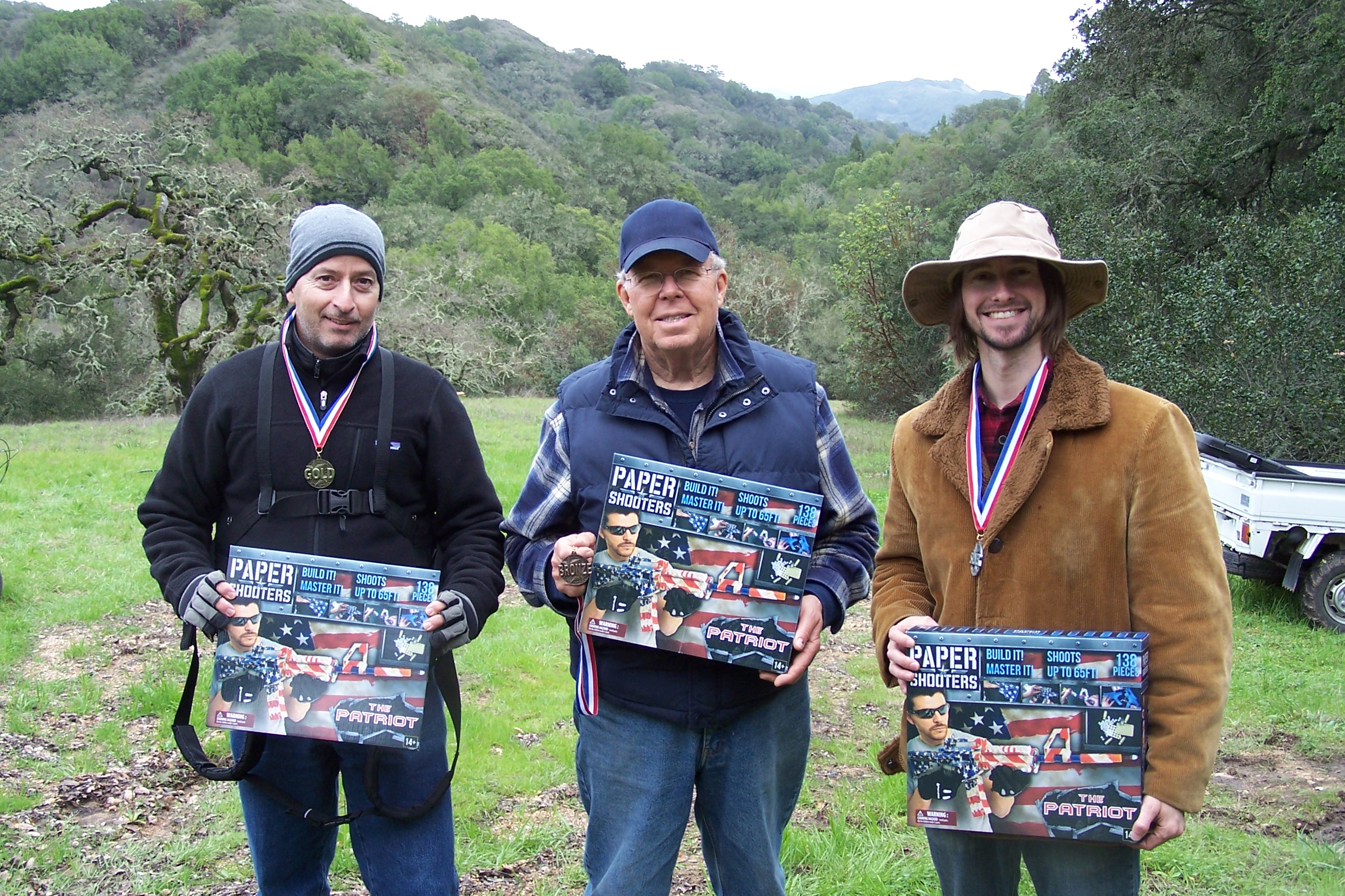 The "Money Shot". Cut the ribbons/strings holding the bills: