Morro Bay Airgunners/SLSBA
Central Coast Field Target
Match Results 02/15/2015
| | | | | | | | |
| --- | --- | --- | --- | --- | --- | --- | --- |
| 1 | Hull, Scott | Freestyle | Diana 54 | UTG 6-24x50 | AA 10.34gr | 44/48 | 91.7% |
| 2 | Knapp, John | Hunter | Air Arms TX200 | UTG 3-12x44 | AA 8.44gr | 25/48 | 52.1% |
| | | | | | | | |
| --- | --- | --- | --- | --- | --- | --- | --- |
| 1 | Smith, Lonnie | Hunter | Daystate MK III | Simmons 6.5-20x40 | JSB 13.43gr | 45/48 | 93.8% |
| 2 | Pittman, Adam | Hunter | Daystate MK III | Hawke 6-24x50 | AA 10.34gr | 42/48 | 87.5% |
| 3-tie | Cyran, Jim | Hunter | Rapid MK II | Hawke 4.5-14x44 | AA 10.34gr | 41/48 | 85.4% |
| 3-tie | Pacheco, Vince | Open | Air Arms TM100 | BSA 10-50x | JSB 8.44gr | 41/48 | 85.4% |
| 5 | Eannetta, Terry | Hunter | Benjamin Marauder | UTG 3-12x44 | JSB 10.34gr | 37/48 | 77.1% |
| 6 | Hull, Alan Harold | WFTF | Benjamin Discovery | UTG 6-24x50 | CPL 7.9gr | 35/48 | 72.9% |
| 7 | Bergquist, John | Freestyle | Crosman Challenger | Hawke 8-32x56 | JSB 10.34gr | 32/48 | 66.7% |
| 8 | Thurber, Dave | Hunter | Air Force Talon SS | UTG 3-12x44 | JSB 14.34gr | 31/48 | 64.6% |
| 9 | Wagoner, Randy | Offhand | Air Arms S200 | Hawke 6-24x50 | JSB 14.34gr | 21/48 | 43.8% |

Match director: Scott Hull


As is typical, we had good weather. We started setting the course, and then - another club had setup a long shot stage for a three gun match beside our range. A couple of gentleman from the other club soon drove up and we civilly discussed the conflict. Our field target matches are regularly scheduled for that day on that range and there can be NO firearms. Long story short - we ended up setting a course at the Cowboy action range next door. That meant some big differences. Most targets were set at about 10-35 yards and only a couple out at 45-55 yards. It made for some good scores. Especially since I had earlier removed most of the reducers. We still had some reduced targets including two with 3/8" kill zones. The scenery was entertaining as it was more of an old west urban feel rather than field target. We had a decent turnout with 11 competitors (2 Piston and 9 Pre-charge). New FT shooter Dave Thurber came from the central valley and shot a respectable 31 for his first match. We had a number of visiting shooters that shot well. Lonnie Smith had the high overall score with a 45. I shot my Diana 54 and shot a score of 44 to be the high piston shooter. Even after the scramble to reset the course, it was a good match and a good day. Thank you to all those that helped out.

The group shot: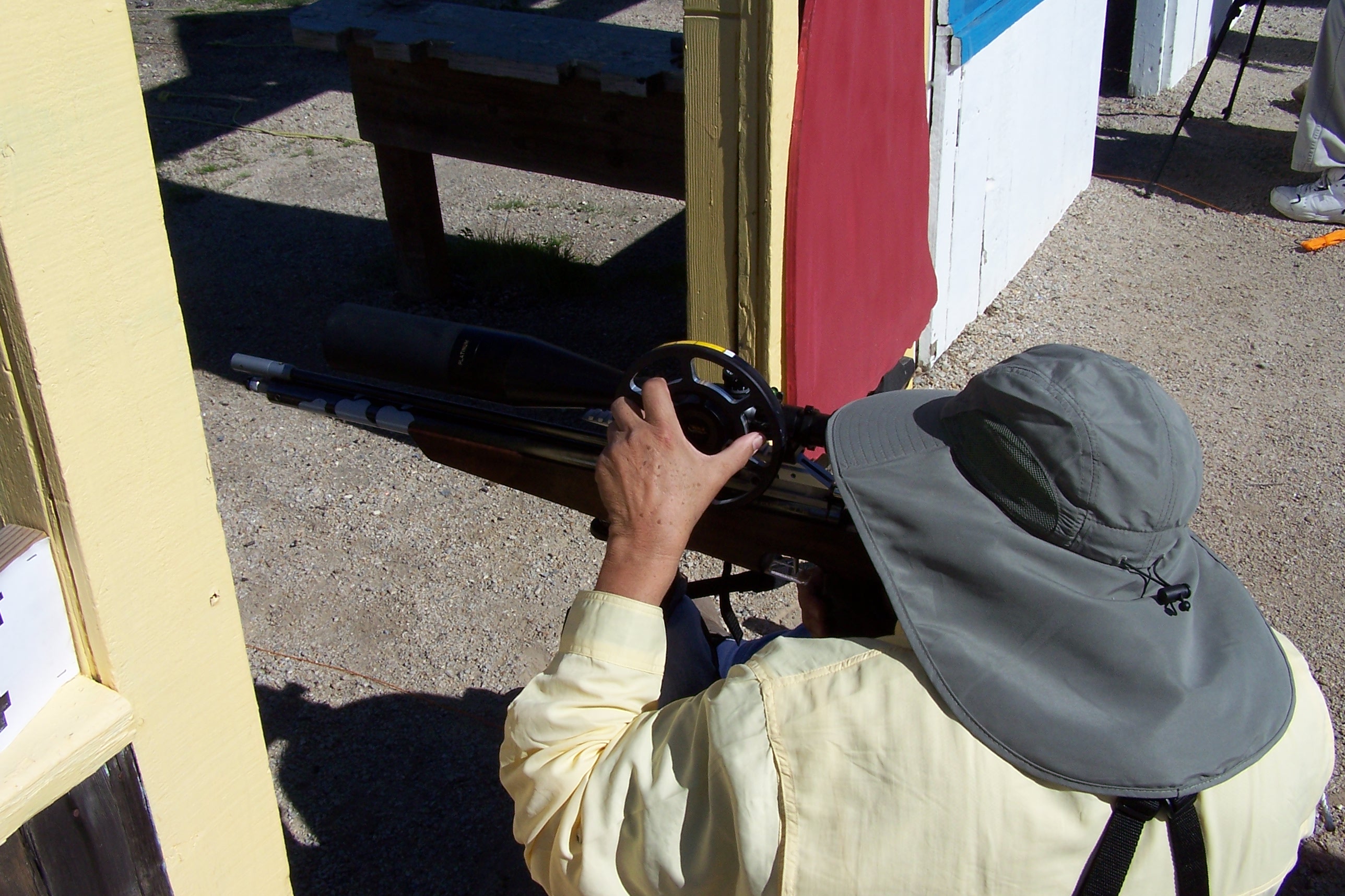 Our next scheduled Field Target match is March 15, 2015. We will also be having our second airgun silhouette match on March 1, 2015. It will be shot alongside the rimfire match. Get your entries in for the 2015 Western States field target match scheduled for August. Sign up early insure a spot, and get a discount.