Morro Bay Airgunners/SLSBA
2019 West Coast AAFTA GP Points Match
Results/Match Report/Pictures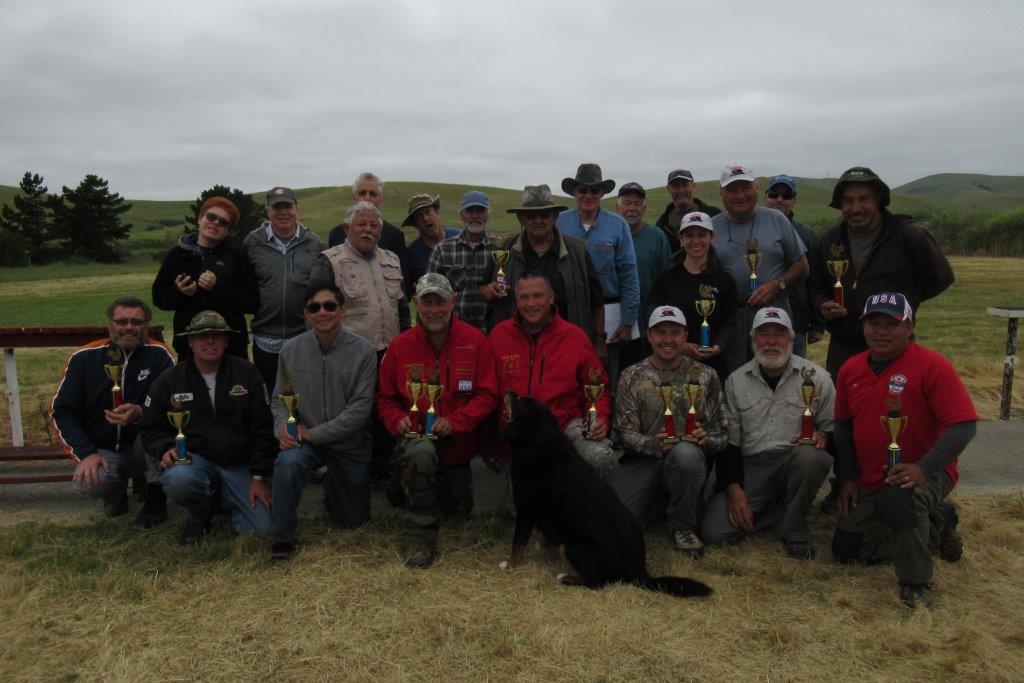 | | | | | | | |
| --- | --- | --- | --- | --- | --- | --- |
| Place | Name | Division | Pistol | Scope | Pellet | Score |
| 1 | Marquez, Rizalde | Limited | Steyr LP1 Rizzynator | Super Sniper 10x | JSB 8.4gr@745fps | 38/40 |
| 2 | Kerndt, Cameron | Limited | Beeman AR2079P | Hawke 3-12x50 | AA 10.3gr@715fps | 37/40 |
| 3 | Ebersole, Randy | Hunter | Crosman 1720T | UTG 3-12x44 | AA 8.4gr@800 | 31/40 |
| 4 | Hull, Scott | Limited | Benjamin Marauder | UTG 3-12x44 | AA 10.3gr@720fps | 29/40 |
| 4 | Schneider, Scott | Hunter | BSA Scorpion | MTC 4-12x32 | H&N 8.5gr@780fps | 29/40 |
| 6 | Knapp, John | Hunter | Crosman 1720T | Hawke 3-12x50 | JSB 8.44gr@715fps | 24/40 |
| 7 | Kerndt, Jessica | Hunter | Crosman 1720T | Hawke 3-12x50 | AA 10.3gr@710fp | 23/40 |
| 8 | Corder, Dave | Limited | Crosman 1720T | UTG 3-12x44 | JSB 7.87gr@810 | 20/40 |
| 9 | Bagakis, John | Hunter | Crosman 1720T | UTG 3-12x44 | JSB 8.44gr | 16/40 |
| 9 | Pacheco, Vince | Hunter | Benjamin Marauder | UTG 3-12x44 | AA 10.3gr@715fps | 16/40 |
| 11 | White, Frank | Hunter | Crosman 1720T | Hawke 3-12x | JSB 7.33gr@840fpsgr | 13/40 |
| | | | | | | | | | |
| --- | --- | --- | --- | --- | --- | --- | --- | --- | --- |
| Place | Name | Division | Class | Rifle | Scope | Pellet | Day 1 | Day 2 | Score |
| 1 | Hawe, Kelly | Open | Pre-charge | Daystate CR97 | BSA 10-50x60 | JSB 10.34gr@880fps | 38/40 | 55/60 | 93/100 |
| 2 | Cyran, Jim | Hunter | Pre-charge | Steyr LG100 | S&B 5-25x56 | JSB 13.7gr@795fps | 38/40 | 54/60 | 92/100 |
| 2 | Whittlesey, Jim | Open | Pre-charge | Thomas Carbine #1 | Nikko 10-50x60 | JSB 13.43gr@818fps | 38/40 | 54/60 | 92/100 |
| 4 | Hull, Scott | Open | Pre-charge | Diana Skyhawk | Monstrum 6-24x50 | AA 10.3gr@920fps | 34/40 | 54/60 | 88/100 |
| 5 | Lu, Son | WFTF | Pre-charge | Steyr LG110 | Kahles 10-50x60 | JSB 8.4gr@777 | 35/40 | 52/60 | 87/100 |
| 6 | Bagakis, John | Hunter | Pre-charge | Diana Outlaw | Hawke 8-32x56 | JSB 10.34gr@900fps | 34/40 | 52/60 | 86/100 |
| 7 | Lovitt, Chris | Hunter | Pre-charge | Benjamin Marauder | Sightron 10-50x60 | JSB 13.43gr@800fps | 34/40 | 51/60 | 85/100 |
| 8 | Ebersole, Randy | WFTF | Pre-charge | USFT #44 | Sightron 10-50x60 | AA 8.4gr@800 | 31/40 | 52/60 | 83/100 |
| 8 | Marquez, Riz | WFTF | Pre-charge | Steyr LG110 | Sightron 10-50x60 | JSB 8.4gr@785 | 33/40 | 50/60 | 83/100 |
| 10 | Corder, David | WFTF | Pre-charge | Steyr LG110 | Sightron 10-50x60 | JSB 7.87gr@810 | 31/40 | 50/60 | 81/100 |
| 10 | Kerndt, Cameron | WFTF | Piston | Weihrauch HW97K | Tac Vector 10-40x50 | AA 8.6gr@775fps | 33/40 | 48/60 | 81/100 |
| 10 | Kerndt, Jessica | WFTF | Piston | Weihrauch HW97K | Hawke 10-50x60 | AA 7.9gr@820fps | 35/40 | 46/60 | 81/100 |
| 10 | Starr, Tony | Hunter | Pre-charge | Weihrauch HW100 | Athlon Midas 6-24x50 | JSB 10.3gr@900fps | 33/40 | 48/60 | 81/100 |
| 14 | Durham, Larry | Hunter | Pre-charge | USFT | Athlon Argos 6-24x50 | JSB 10.34gr@890fps | 31/40 | 48/60 | 79/100 |
| 14 | Knapp, John | Hunter | Pre-charge | RAW TM1000 | Hawke 8-32x56 | JSB 10.34gr@890fps | 33/40 | 46/60 | 79/100 |
| 16 | Merrit, Chris | Open | Pre-charge | USFT #27 | Leupold 35x Competition | AA 10.3@900fps | 29/40 | 49/60 | 78/100 |
| 17 | Burciaga, Art | Freestyle | Pre-charge | RAW HM1000 | Hawke 8-32x56 | JSB 10.34@865fps | 30/40 | 45/60 | 75/100 |
| 18 | Schneider, Scott | WFTF | Pre-charge | RAW TM-1000 | Tac Vector 10-40x50 | JSB 10.3gr@705fps | 27/40 | 46/60 | 73/100 |
| 19 | Kidd, Robert | WFTF | Piston | Weihrauch HW97 | Sightron SIII 10-50 | H&N 8.64@770fps | 30/40 | 41/60 | 71/100 |
| 20 | Eannetta, Terry | Open | Pre-charge | Benjamin Marauder | Sightron SIII | JSB 13.4gr@810fps | 24/40 | 42/60 | 66/100 |
| 21 | Rowling, Conrad | Hunter | Pre-charge | Air Arms HFT500 | Athlon 4-14x44 | JSB 13.4gr@785fps | 29/40 | 33/60 | 62/100 |
| 22 | Pacheco, Vince | Open | Piston | Air Arms TX200 | Nikko 10-50x60 | AA 8.4gr@795fps | 23/40 | 35/60 | 60/100 |
| 23 | Poh, Jim | WFTF | Piston | Air Arms TX200 | Hawke 10-50x60 | AA 8.44gr@710fps | 27/40 | 31/60 | 58/100 |
| 24 | Bergquist, John | Open | Pre-charge | RAW TM1000 | Sightron 10-50x60 | JSB 10.34gr@900 | - | 47/60 | 47/60 |
| 24 | White, Frank | Hunter | Pre-charge | Benjamin Marauder | Hawke 4.5-14x42 | AA 10.3gr@894fps | 22/40 | 25/60 | 47/100 |
| 26 | Starr, Nick | Hunter | Pre-charge | Weihrauch HW100 | Athlon Midas 6-24x50 | JSB 10.3gr@900fps | 11/40 | 29/60 | 40/100 |
| 27 | Biergiel, Fred | Hunter | Pre-charge | Daystate Mark IV | Hawke 4-16x50 | JSB 10.34gr@848fps | 30/40 | - | 30/40 |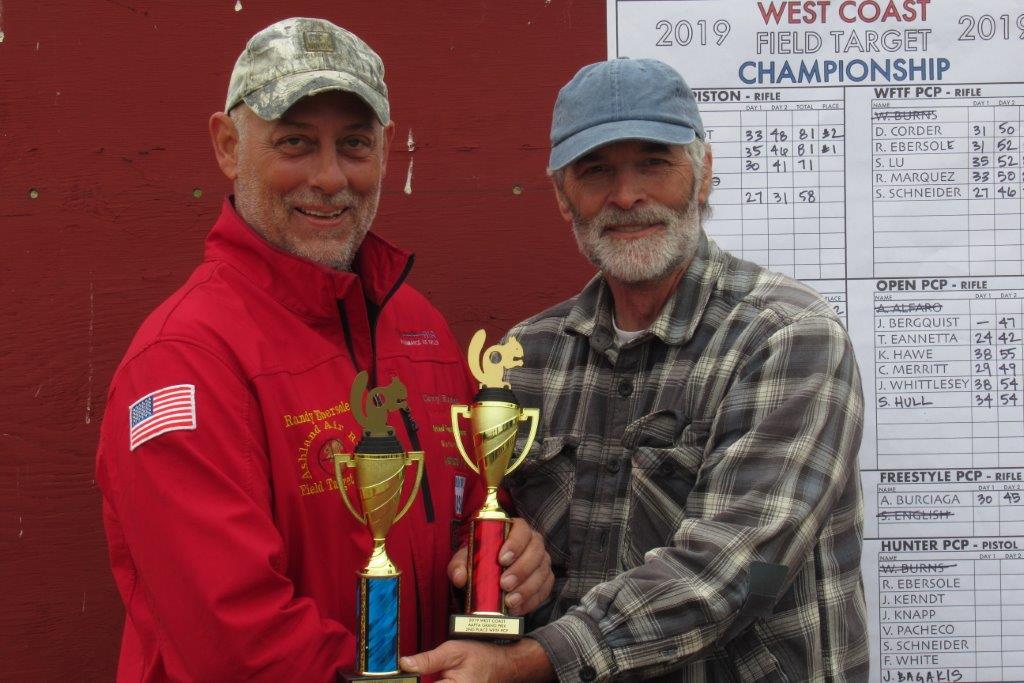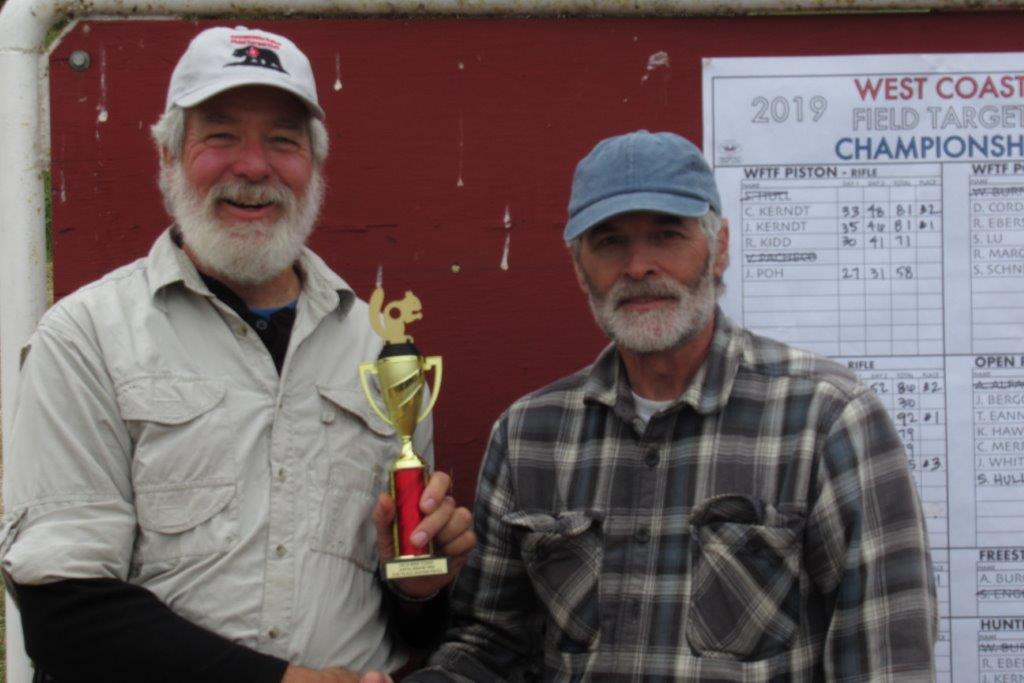 | | | | | | |
| --- | --- | --- | --- | --- | --- |
| Place | Name | Pistol | Scope | Pellet | Score |
| 1 | Ebersole, Randy | Crosman 1720T | UTG 3-12x44 | AA 8.4gr@800 | 31/40 |
| 2 | Schneider, Scott | BSA Scorpion | MTC 4-12x32 | H&N 8.5gr@780fps | 29/40 |
| 3 | Knapp, John | Crosman 1720T | Hawke 3-12x50 | JSB 8.44gr@715fps | 24/40 |
| 4 | Kerndt, Jessica | Crosman 1720T | Hawke 3-12x50 | AA 10.3gr@710fp | 23/40 |
| 5 | Bagakis, John | Crosman 1720T | UTG 3-12x44 | JSB 8.44gr | 16/40 |
| 5 | Pacheco, Vince | Benjamin Marauder | UTG 3-12x44 | AA 10.3gr@715fps | 16/40 |
| 7 | White, Frank | Crosman 1720T | Hawke 3-12x | JSB 7.33gr@840fpsgr | 13/40 |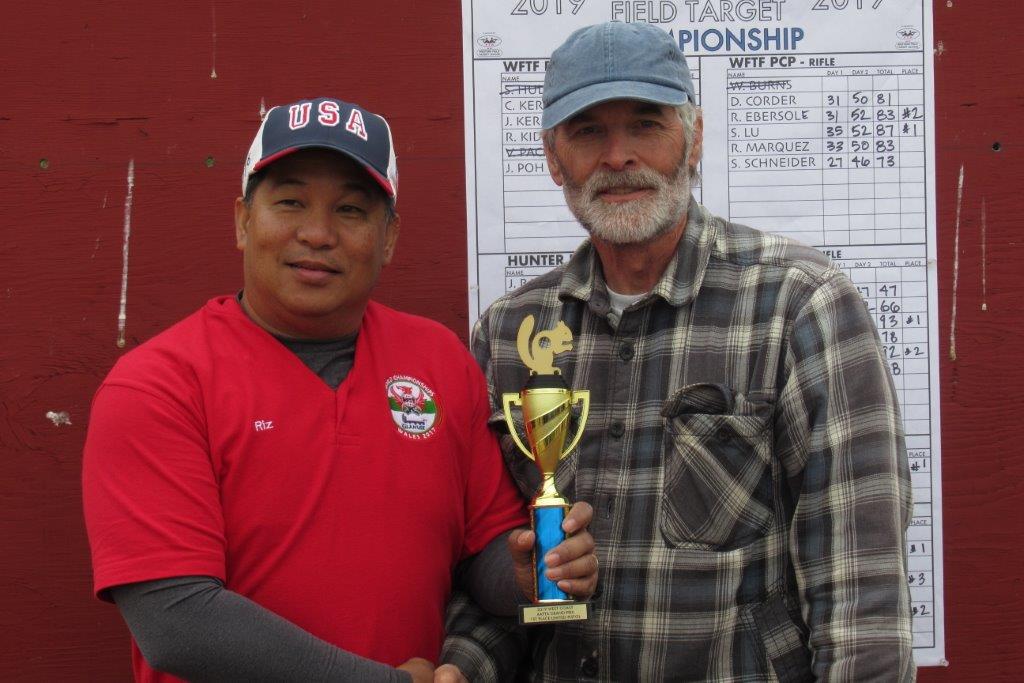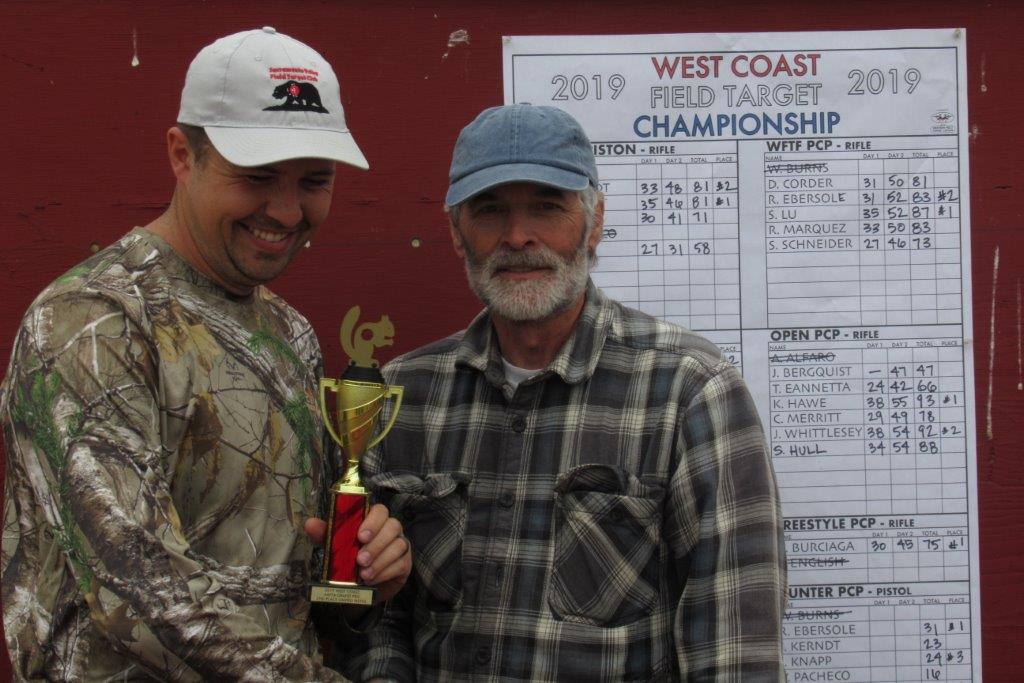 | | | | | | |
| --- | --- | --- | --- | --- | --- |
| Place | Name | Pistol | Scope | Pellet | Score |
| 1 | Marquez, Rizalde | Steyr LP1 Rizzynator | Super Sniper 10x | JSB 8.4gr@745fps | 38/40 |
| 2 | Kerndt, Cameron | Beeman AR2079P | Hawke 3-12x50 | AA 10.3gr@715fps | 37/40 |
| 3 | Hull, Scott | Benjamin Marauder | UTG 3-12x44 | AA 10.3gr@720fps | 29/40 |
| 4 | Corder, Dave | Crosman 1720T | UTG 3-12x44 | JSB 7.87gr@810 | 20/40 |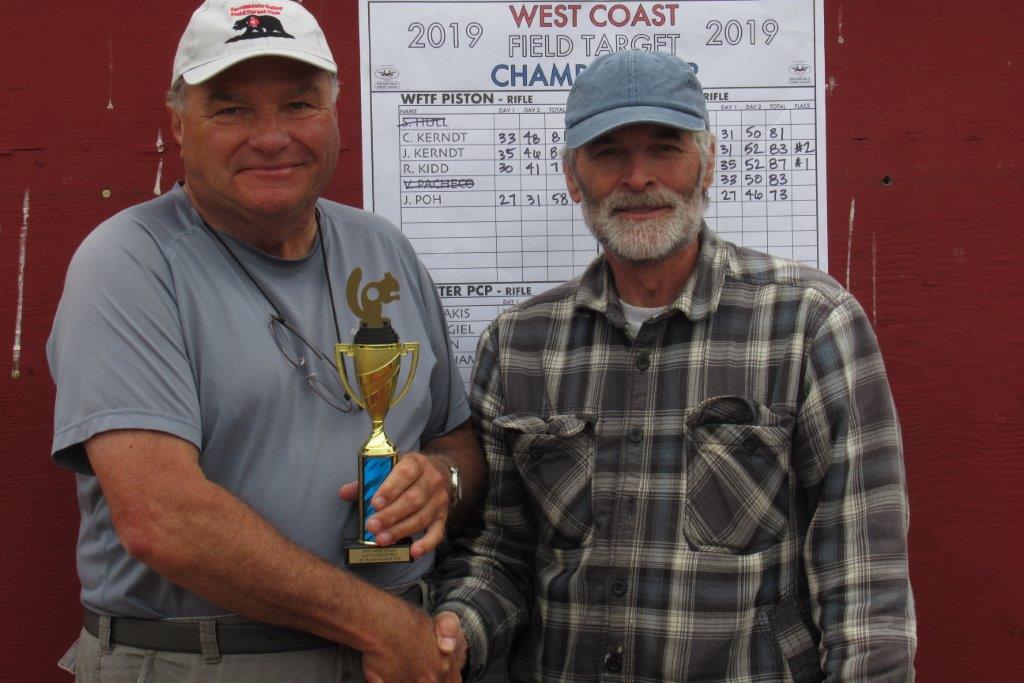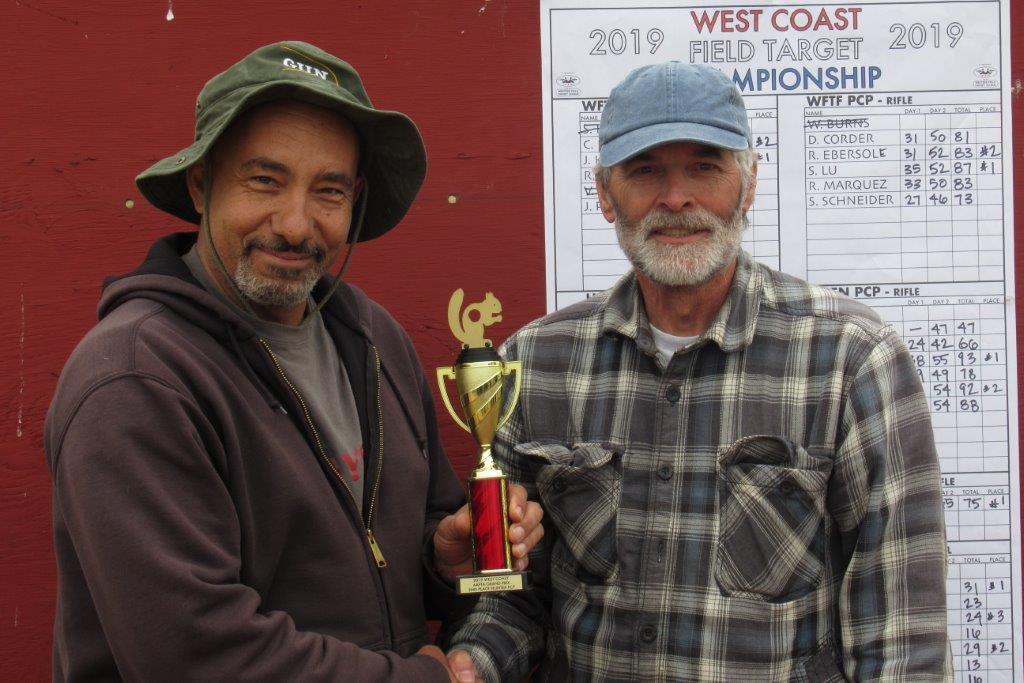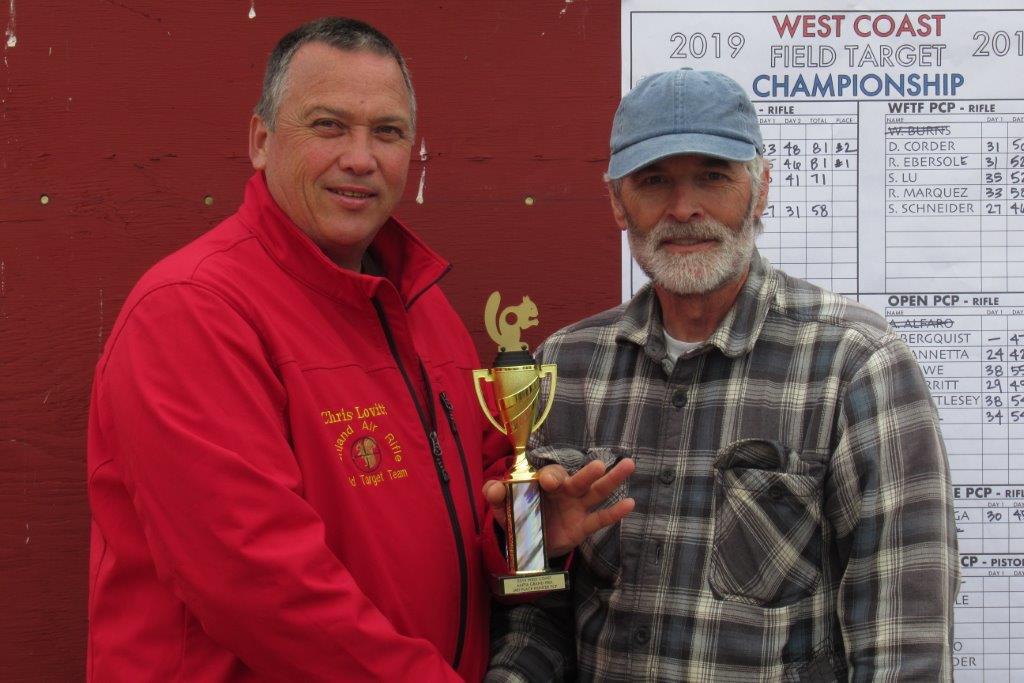 | | | | | | | | |
| --- | --- | --- | --- | --- | --- | --- | --- |
| Place | Name | Rifle | Scope | Pellet | Day 1 | Day 2 | Score |
| 1 | Cyran, Jim | Steyr LG100 | S&B 5-25x56 | JSB 13.7gr@795fps | 38/40 | 54/60 | 92/100 |
| 2 | Bagakis, John | Diana Outlaw | Hawke 8-32x56 | JSB 10.34gr@900fps | 34/40 | 52/60 | 86/100 |
| 3 | Lovitt, Chris | Benjamin Marauder | Sightron 10-50x60 | JSB 13.43gr@800fps | 34/40 | 51/60 | 85/100 |
| 4 | Starr, Tony | Weihrauch HW100 | Athlon Midas 6-24x50 | JSB 10.3gr@900fps | 33/40 | 48/60 | 81/100 |
| 5 | Durham, Larry | USFT | Athlon Argos 6-24x50 | JSB 10.34gr@890fps | 31/40 | 48/60 | 79/100 |
| 7 | Knapp, John | RAW TM1000 | Hawke 8-32x56 | JSB 10.34gr@890fps | 33/40 | 46/60 | 79/100 |
| 8 | Rowling, Conrad | Air Arms HFT500 | Athlon 4-14x44 | JSB 13.4gr@785fps | 29/40 | 33/60 | 62/100 |
| 9 | White, Frank | Benjamin Marauder | Hawke 4.5-14x42 | AA 10.3gr@894fps | 22/40 | 25/60 | 47/100 |
| 10 | Starr, Nick | Weihrauch HW100 | Athlon Midas 6-24x50 | JSB 10.3gr@900fps | 11/40 | 29/60 | 40/100 |
| 11 | Biergiel, Fred | Daystate Mark IV | Hawke 4-16x50 | JSB 10.34gr@848fps | 30/40 | - | 30/40 |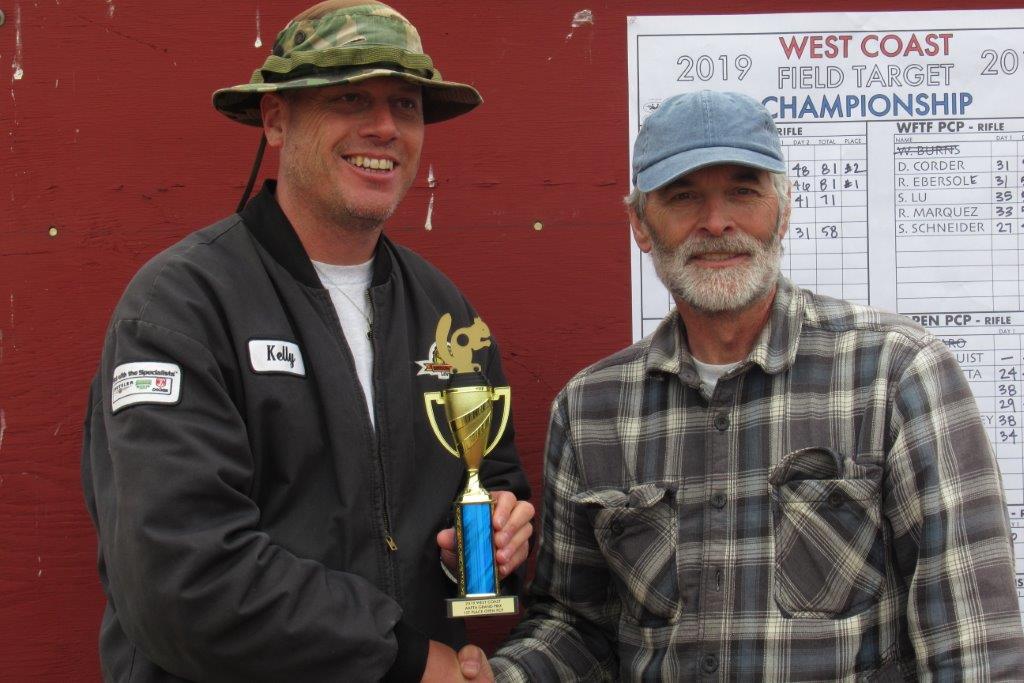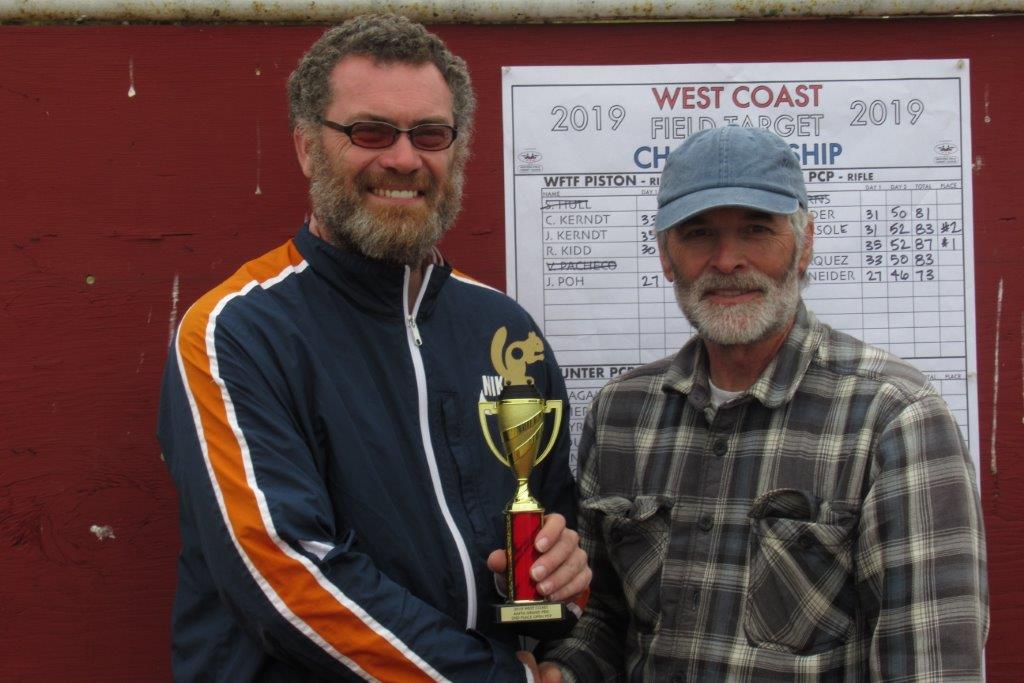 | | | | | | | | |
| --- | --- | --- | --- | --- | --- | --- | --- |
| Place | Name | Rifle | Scope | Pellet | Day 1 | Day 2 | Score |
| 1 | Hawe, Kelly | Daystate CR97 | BSA 10-50x60 | JSB 10.34gr@880fps | 38/40 | 55/60 | 93/100 |
| 3 | Hull, Scott | Diana Skyhawk | Monstrum 6-24x50 | AA 10.3gr@920fps | 34/40 | 54/60 | 88/100 |
| 4 | Merrit, Chris | USFT #27 | Leupold 35x Competition | AA 10.3@900fps | 29/40 | 49/60 | 78/100 |
| 5 | Eannetta, Terry | Benjamin Marauder | Sightron SIII | JSB 13.4gr@810fps | 24/40 | 42/60 | 66/100 |
| 6 | Pacheco, Vince | Air Arms TX200 | Nikko 10-50x60 | AA 8.4gr@795fps | 23/40 | 35/60 | 60/100 |
| 7 | Bergquist, John | RAW TM1000 | Sightron 10-50x60 | JSB 10.34gr@900 | - | 47/60 | 47/60 |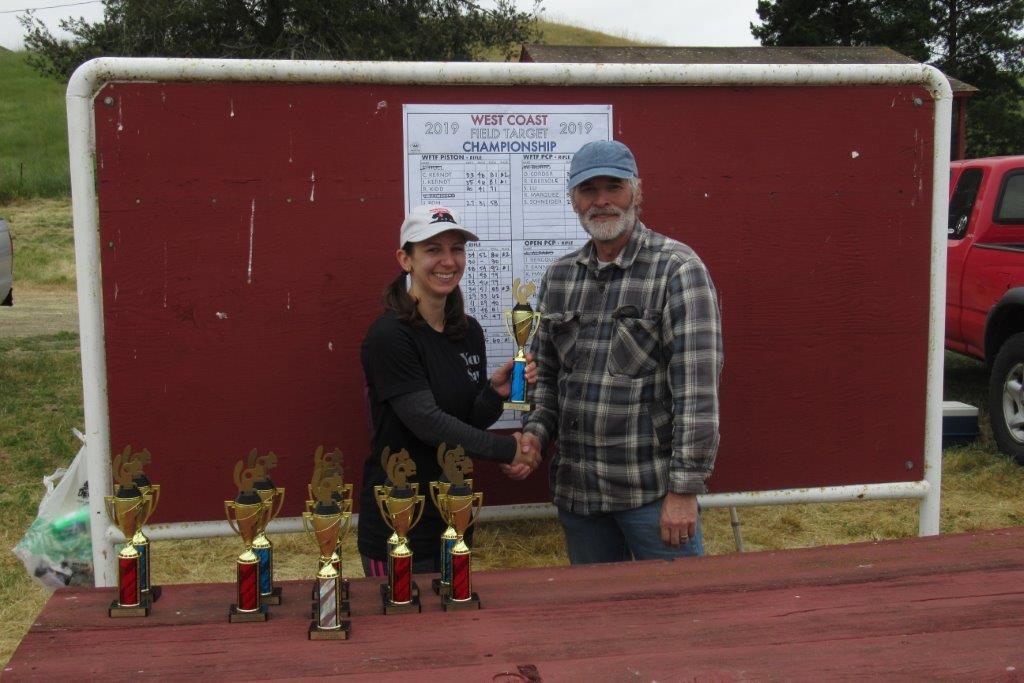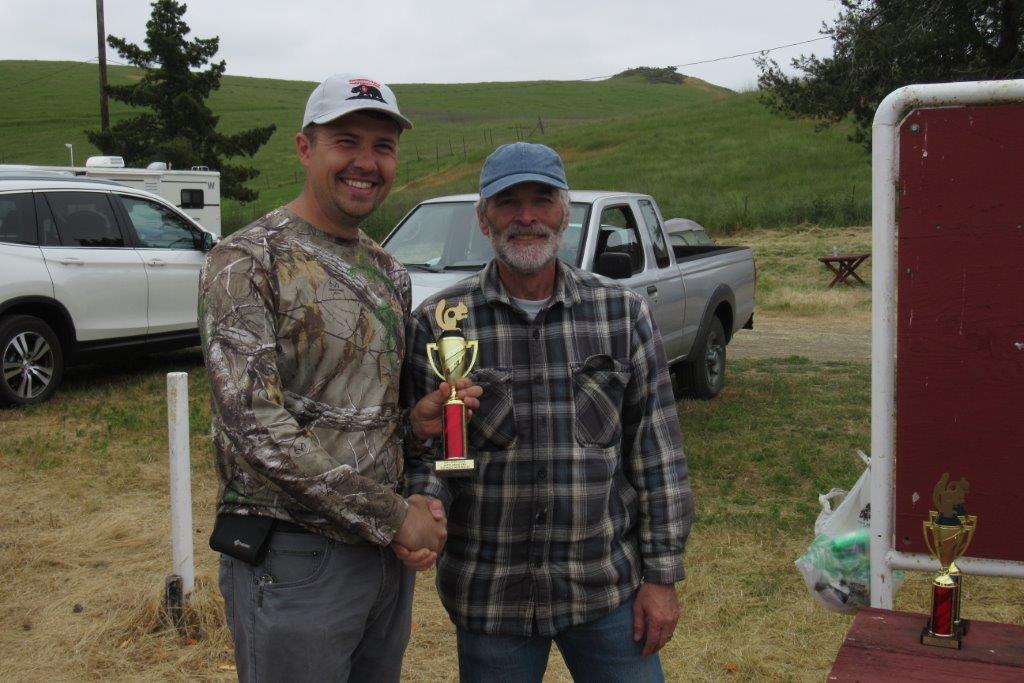 AAFTA Awards - WFTF Piston
Place
Name
Rifle
Scope
Pellet
Day 1
Day 2
Score
1
Kerndt, Jessica
Weihrauch HW97K
Hawke 10-50x60
AA 7.9gr@820fps
35/40
46/60
81/100
2
Kerndt, Cameron
Weihrauch HW97K
Tac Vector 10-40x50
AA 8.6gr@775fps
33/40
48/60
81/100
3
Kidd, Robert
Weihrauch HW97
Sightron SIII 10-50
H&N 8.64@770fps
30/40
41/60
71/100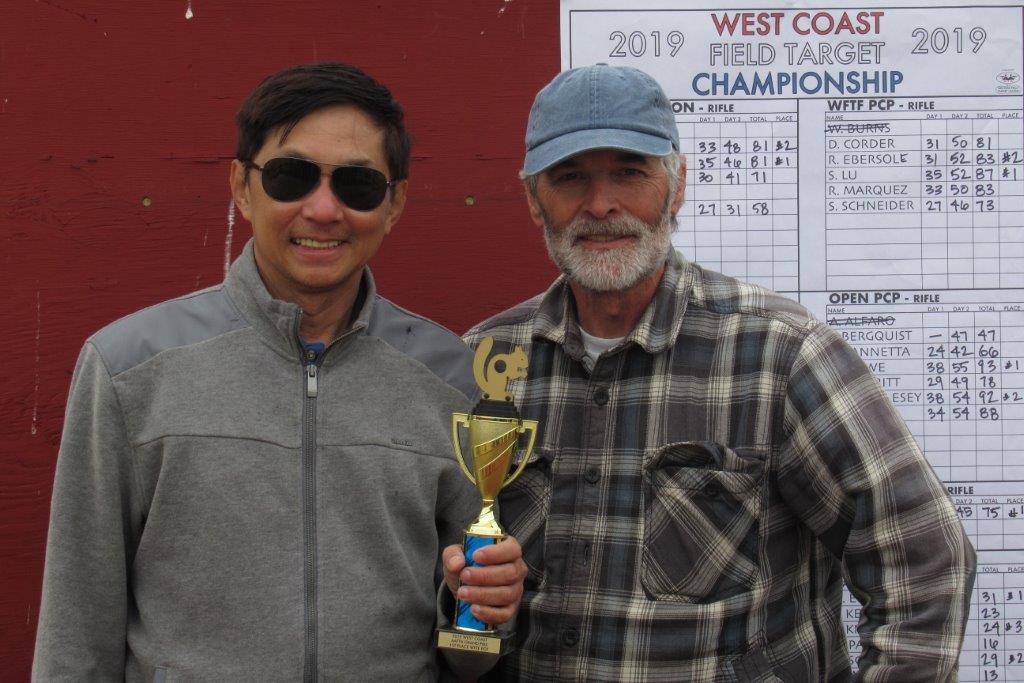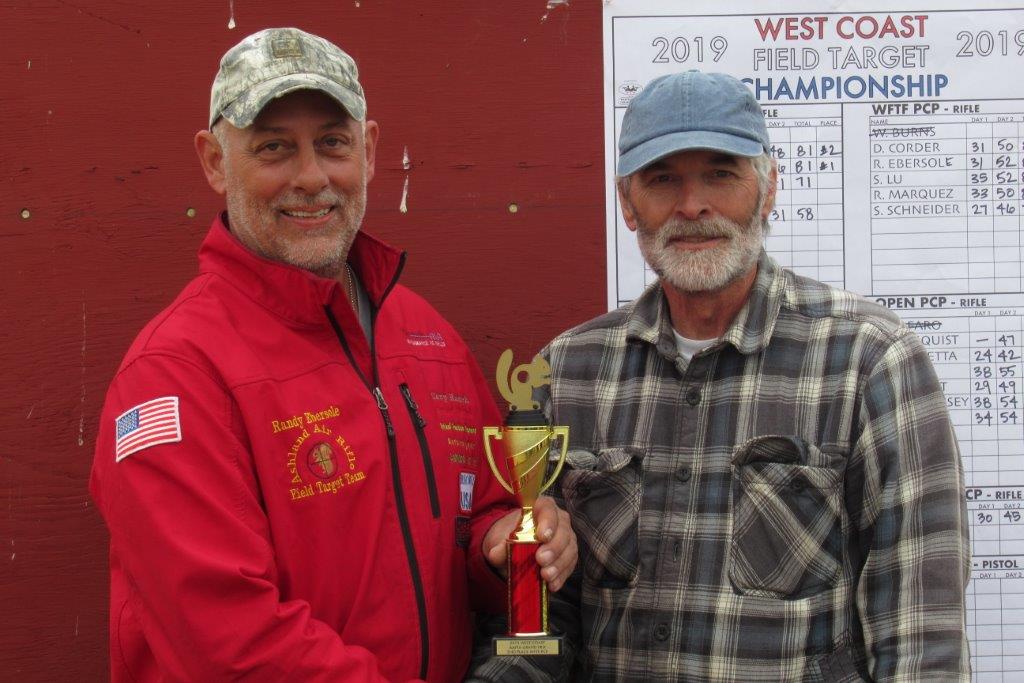 | | | | | | | | |
| --- | --- | --- | --- | --- | --- | --- | --- |
| Place | Name | Rifle | Scope | Pellet | Day 1 | Day 2 | Score |
| 1 | Lu, Son | Steyr LG110 | Kahles 10-50x60 | JSB 8.4gr@777 | 35/40 | 52/60 | 87/100 |
| 3 | Marquez, Riz | Steyr LG110 | Sightron 10-50x60 | JSB 8.4gr@785 | 33/40 | 50/60 | 83/100 |
| 4 | Corder, David | Steyr LG110 | Sightron 10-50x60 | JSB 7.87gr@810 | 31/40 | 50/60 | 81/100 |
| 5 | Schneider, Scott | RAW TM-1000 | Tac Vector 10-40x50 | JSB 10.3gr@705fps | 27/40 | 46/60 | 73/100 |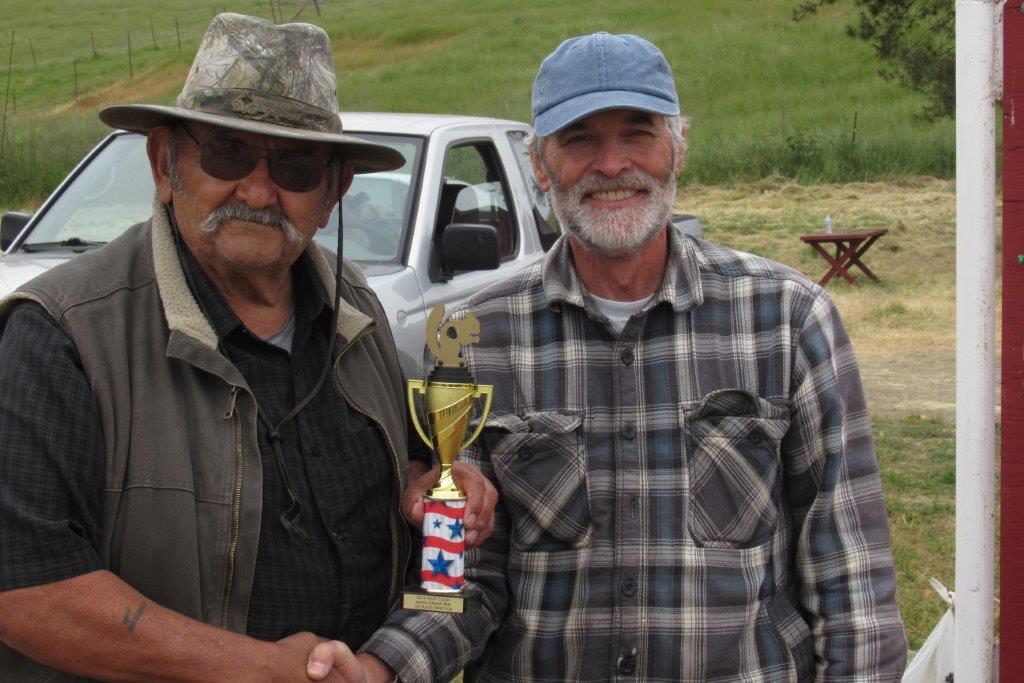 | | | | | | | | |
| --- | --- | --- | --- | --- | --- | --- | --- |
| Place | Name | Rifle | Scope | Pellet | Day 1 | Day 2 | Score |
| 1 | Burciaga, Art | RAW HM1000 | Hawke 8-32x56 | JSB 10.34@865fps | 30/40 | 45/60 | 75/100 |
The Morro Bay Airgunners held their 2019 AAFTA GP Field Target Match over the 4th weekend in April. It's a good time of the year for a match as we still have some green foliage and the bugs are not yet prevalent.
The first round of the rifle match was Saturday morning. We had overcast skies and very little wind. At the end of the day, Jim Cyran set himself up with a 4 point lead in the heavily contested Hunter Division. Kelly Hawe and Jim Whittlesey matched Jim's score to setup a close contest in Open Division. Jessica Kerndt finished day 1 leading the WFTF Piston class by one point. There would be some good contests in the Sunday finale.
Lunch was served and the contestants got a couple hour break before the pistol match. Skies had mostly cleared and the wind had picked up a lot. Randy Ebersole ended with a two point win over second place Scott Schneider in the Hunter Division. In the Limited Division, Cameron Kerndt and Riz Marquez were neck and neck to the last lane which ended up being the standing shots. Cameron shot well but missed a one to give Riz an opening. Riz needed to clean the lane to win and he did just that. Riz ended up with a 38/40 on the very tough/windy course.
Sundays rifle match brought a repeat of overcast skies and calm winds. Jim Cyran shot a 54/60 on the Sunday round to extend his lead and win the Hunter Division. In the Open Division, it came down to the last standing lane when Kelly Hawe had a trigger slip and missed the far target. He ended with a 55/60. Jim Whittlesey failed to take advantage and missed two on that lane and ended up in second in Open Division and a 54/60 for the day.
After lunch we totaled the scores and ended up with two shootoffs. Son Lu won the WFTF PCP class but there was a tie for 2nd. Randy Ebersole bested Riz Marquez in that shootoff. There was also a shootoff between Jessica and Cameron Kerndt for 1st place in WFTF Piston. Jessica won!
It was a long weekend and a lot of work. I appreciated all the help setting up and taking down the courses.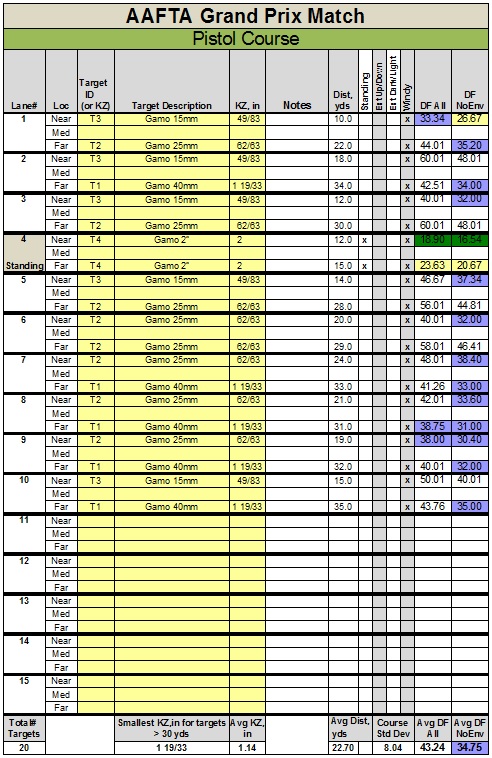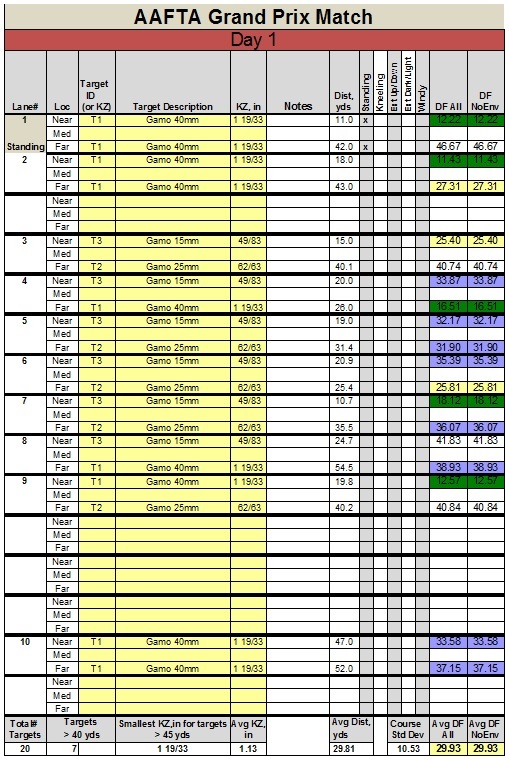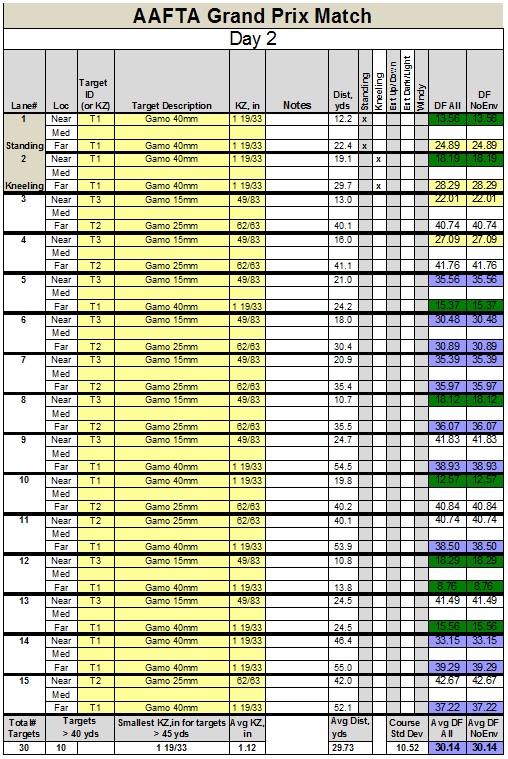 Link to Conrad Rowlings match photos